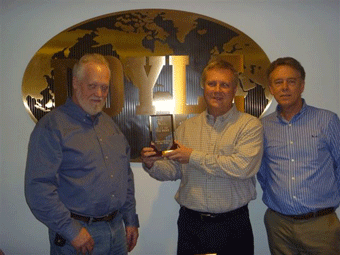 Congratulations are in order for all the winners of the Illinois Sign Association's 2011 Sign Design contest, with a special mention for Doyle Signs of Addison, Illinois, who, with their entry in the Illuminated Signage category, won the "Best of the Best" award, voted on by ISA members who attended the Fall Conference in Lisle, Illinois this past October 12-13. Mike Dunn (right), chair of Sign Design, presented the "Best of the Best" Award in Sign Design to Pat Doyle (left) and Joe Doyle (center) of Doyle Signs.
Doyle Signs won this prestigious award with their Plumbers Local 130 UA sign (pictured below).
Congratulations also to all the award-winning sign companies listed below:
Bendsen Signs & Graphics, Inc.;
C. Johnson Sign Co.;
Designs and Signs by Anderson;
Direct Sign Systems;
Grate Signs, Inc.;
Prairie Signs, Inc.;
T. Ham Sign Inc.; and
Van Bruggen Signs, Inc.
The association has been holding the Sign Design Contest for the past twenty-seven years to showcase creativity in design, medium and execution in eight different category types. The Sign Design Awards were presented during a banquet dinner October 12, 2011 as part of the ISA Fall Conference.
The Illinois Sign Association was formed forty-two years ago to improve and advance the advertising sign industry, to elevate the standards of sale, manufacturing, installation and service, and to establish a high regard for technical competence. The ISA also strives to promote the public relations image for sound advertising and serves the best interests of the community.
For more information, visit www.isa-sign.com.