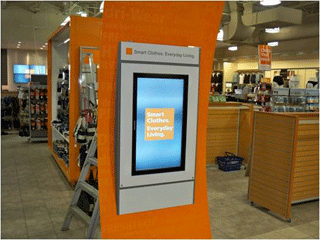 Although the term "signage" is frequently used to describe the digital displays that showcase ads, viewer-friendly content, and organizational information, the first mistake is viewing these systems as static signage with moving images.
Although it's tempting to only design simple presentation documents that accurately convey the messages a retailer wants to send to consumers, these days shoppers are looking for more. And if you want customers to be engaged in the store, at work, or on the subway platform, it makes sense to invest some time and resources into ensuring that the content is up to speed.
Retailers will need to be more cognizant of their digital display content, as the popularity of this medium continues to increase. Media researcher MagnaGlobal predicts that spending on digital billboards and posters is expected to double in the next five years to $5.2 billion.
Vern Freedlander, vice president of production at Montreal-based digital software and content services company X2O Media, says that retailers must take their display presentation seriously. "Viewers are incredibly sophisticated, and their expectations are high," he says. "The displays have to consistently look great. Viewers expect the same kind of quality (both editorially and from a production perspective) as they see on their HD television sets at home."
Choosing the Best Display
The first step in maximizing content is to determine how the organization using it will benefit from digital signage. For example, retailers will have a narrow focus on sales, while a large medical or school campus may intersperse news with wayfinding.
Gregory Smith, director of communications for POPAI (The Global Association for Marketing at Retail) advises retailers to add digital signage as a complement to their traditional in-store displays, "When properly executed, from the position and size of the screen to the content displayed on the screen, in-store digital signage can reinforce purchase behavior or create an impulse to make incremental purchases," he says.
To help sign companies and other business get started with digital signage, POPAI makes available literature and case studies in its research library.
Photo courtesy of Christie Microtiles.
For example, POPAI's Digital Signage Group focuses on industry information, profiles of proven solutions, and market research of the industry. The organization has established digital signage standards that help providers develop formats and utilize media players that will allow them to display content across multiple signage networks. The standards also encourage use of a common vocabulary among providers.
"Despite the availability of widely accepted international standards, terms like 'MPEG-2' and 'MPEG-4' (standards for audio and video coding formats) still mean different things to different people," says Smith. "Other terms like '1080p' (referring to HDTV) don't have any formal meaning, but are widely used anyway."
Meanwhile POPAI's recommended digital signage standards can benefit hardware and software vendors, as well as content creators.
The Latest Trends in Display
ADFLOW Networks has experience in creating large digital signage networks. The company has set up fifty digital signage networks for clients such as Canadian Tire, Mark's Work Wearhouse, TELUS, Office Max, US Cellular, and Wawa.
Working with the fast-paced industries of telecommunications and wireless has proven the perfect markets for digital signage, according to Vice President of Sales Wayne Ruttle. "Retailers with complex products and services that change frequently are big adopters of digital signage. Typically this type of business changes promotions and pricing models on a daily basis," he says, noting up-and-coming markets include big box retailers, convenience stores, and quick service restaurants.
Ruttle views digital signage content as the most important component of any digital signage initiative—and the biggest challenge. "In referring to content, I also mean strategy, development, and management. By far the best approach to ensuring overall project success is to be diligent in understanding the key business objectives of the retailer and align the content strategy and delivery of content, both for short and long-term objectives."
To achieve some of these objectives, retailers are turning towards the latest technology that can enhance their digital signage offerings. Two of ADFLOW Networks's recent projects illustrate the possibilities for digital signage in retail environments—as well as the potential challenges.
For Mark's Work Wearhouse stores in Canada, digital signage was used to communicate changes to customers as a result of a new store design.
ADFLOW Networks installed multiple displays—including two-by-two video walls with branding content located behind the P-O-S counter, large format displays (digital posters) with lifestyle content on all walls, interactive touch displays built into product fixtures, and kiosks providing product and promotional information. Outside LED signs with branding and more promotional information were posted. But a major challenge with this project was ensuring that there was Internet connectivity in each store so the digital content could be delivered to the displays.
For Canadian telecommunications store TELUS, ADFLOW Networks worked on a digital solution that would complement the store's reputation as a unique shopping experience.
The scope of the project included dynamic digital displays that would drive traffic to their stores and mall kiosks. To achieve this, the company implemented interactive touch displays with lift-touch functionality. When a consumer lifts a wireless phone off the fixture, content is then "triggered" on the touch display, allowing the consumer to interact with the display, view products, and compare phones and plans.
In addition to the aesthetic value, there was also a functional purpose—pricing updates. "Incorporated touch-enabled displays with product information can help alleviate the challenges associated with rapidly changing product and price information and ensure accuracy and compliance at each store location," says Ruttle.
Coming Up With a Digital Sign Plan
When it comes to best practices in displaying digital content, one point is typically repeated: strategize. "Know your audience and make content selections based on that knowledge," recommends Freedlander. "One of the great things about digital signage is that content playback can be managed to reflect the audience. This can be done by the time of the day, audience interest, or by using demographic information."
Freedlander adds that the content should "flow" and always reflect the retailer's brand strategy. "By 'flow,' I mean it all works together to create a cohesive on-brand presentation," he says.
And Freedlander's final tip? "Offer content that has a sense of importance if not urgency; it should work to get an audience's attention and provides a reason for viewers to watch," he suggests.
One mistake that uninformed retailers make is to consider the digital signage platform a TV.
"Don't hang TVs on a wall playing TV commercials. It won't work!" says Ruttle. "Digital signage must be strategically integrated into the DNA of the store's design with targeted content messaging developed to evoke the desired consumer behavior."
Targeting the audience's needs and behavior is exactly the advice that Jeremy Gavin CEO of digital content company Screenfeed gives, especially regarding the length of content. "In retail, it's very important to keep your messages short to match the time the shopper will spend in a position to view the screen." he says. "For passive signage, where a shopper will simply be walking near or by the signage, durations of each segment should be kept to lengths of seven to fifteen seconds. Shoppers are focused and don't offer long periods of attention."
Mistakes to Avoid from the Sign Side
Focusing on the sign company or vendor who delivers the digital signage display, Ruttle warns that digital signage initiatives should not be treated as IT projects. "Yes, there's technology involved," he says, "however digital signage must be initiated, controlled, and operated as a marketing tool by marketing resources and not developed or operated by an IT resource that doesn't have the expertise, time, or focus available to get it right, short-term or long-term."
In other words: Don't confuse the back-end imperatives with the front-end goals.
Freedlander echoes this sentiment, underlining the importance of a team effort behind the display. "You must use a professional team—designers who understand the digital signage space and experienced video production people," he says. "Digital signage content is not a 'do-it-yourself' medium. If the production quality and technical performance of the network are low, the brand will suffer."
Freedlander advises to think of the digital signage network as a small private television network with its own brand and its own identity. "And don't think of the network as a collection of screens that play generic filler content without a sense of business objectives," he suggests.
Evaluating the Results
Once the content is in place, its effectiveness should be evaluated. This might happen through customer feedback or other ways of measuring ROI.
"Effectiveness measurement can be accomplished by post-visit interviews where customers are asked to recall information about the content, or in retail locations where specific products are highlighted you should report on the sales of highlighted products with the point-of-sale system," says Gavin. "It's important to not only measure the sales of those products on that given day but also compare how sales have changed over several weeks after the content began playing."
Freedlander argues that the first step in evaluating the display system is to return to the original business objectives of the project. "(1.) Have clearly defined business objectives for the network, and (2.) measure those objectives through research," he explains. "There are many forms research can take. It may be as simple as the checkout person asking if the customer noticed the content and try to get a sense of its effectiveness.
"However, the gold standard would be professional quantitative and qualitative research. This can be performed before content is aired using focus groups to review the content or it can be done with a survey after customers have left the retail location."
Freedlander notes that retailers often simply trust their own intuition regarding content, but it's best to utilize an objective, data-driven process. "Conduct research on an ongoing basis to help make sure that the content is meeting its marketing and communications objectives," he advises.