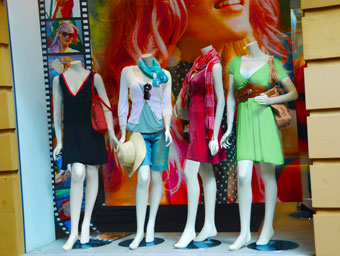 It's no secret: There's been an uprising when it comes to the printing of graphics—the digital printing of fabrics.
If you've been to one of the major tradeshows in the past few years, you've seen firsthand the exponential growth of manufacturers, suppliers, and distributors playing in the fabric side of the market.
And you've no doubt seen the number of shops like yours investigating this technology.
After all, printing on fabrics can be applied to a variety of products and markets. It offers advantages over other substrates such as ease of shipping and reduced shipping expenses. It produces a unique aesthetic, as well as texture (both important factors when it comes to salability). And it carries a certain high-end cachet versus vinyl.
It's no wonder there's a fabric revolution underway in digital printing.
What follows are five considerations to take into account if you decide to add fabric printing to your own digital operation. There are, of course, many other factors, but these five should certainly enter into your fabric equation.
One: Expanding Your Comfort Zone
What types of jobs do you want to take on?
If you're already producing signage, then soft signage might be an obvious choice—banners, posters, flags, tradeshow displays, out-of-home advertising, and similar applications will come naturally to you. It's likely that you already have clients and potential clients in your customer mix.
But there's an array of other applications and jobs you can consider—from garments and home décor to industrial applications and theatre backdrops.
As with any other business decision you make, analyze your shop's strengths (and weaknesses) insofar as specific markets and job types.
Do you have enough potential clients to pursue an application that isn't already in your comfort zone? You'll already be taking on a technology that's new to your shop; is now the best time to also strive to take on a new subset of customers?
Two: In-house vs. Outsource
Bringing fabric printing in-house will likely require additional hardware plus media and consumables.
Other in-house considerations include: floor space (do you have the square footage for more hardware?); bringing on additional staff (do you have the budget to do so?); initiating training on new equipment (do you cross-train existing staff?); and others.
There is, however, another option for you to pursue—partnering with a shop that's already producing digitally printed fabrics.
This can work especially well if your "partner shop" is in your same city or region, and, of course, if your customer mix and markets don't overlap
too much.
Yes this type of partnership brings with it a variety of sometimes uncomfortable business arrangements—profit splitting and determining who has which rights to which customer, to name just two—but it can also be a nice way to gain entry into a new market and application.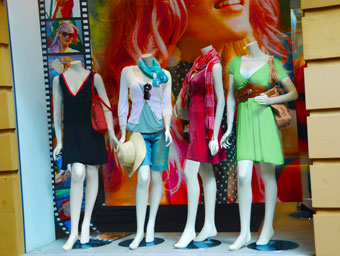 Three: Marketing Newfound Capabilities
Depending upon your current application and client mix, you'll probably want to explore ways to market your newfound fabric-printing capabilities (whether these are in-house or outsourced).
Yes you'll be marketing to many of your current customers, but you'll also be welcoming an entirely new batch of potential customers as well.
For instance, Merritt Graphics in East Hartford, Connecticut, first entered digital textile printing in 2014, then began putting even more of an emphasis on its fabric offerings.
"The event and venue tradeshow markets, as well the retail markets, were making a shift to soft-sided signage and graphic solutions," says Pat Freer,
Merritt Graphics VP and Product Group Director.
After two years of refining its techniques and learning the soft signage market, the company launched a Web site (merrittfabricgraphics.com) devoted entirely to its fabric-printing capabilities. The objective here was to gain more exposure for their digital textile capabilities and offerings.
"We do acknowledge our fabric graphics on our main Web site," says Freer, "however we have a comprehensive list of fabric graphics and visual display solution capabilities. Our goal is to have them prominently displayed."
Four: Choosing a Printing Technology
Just as with traditional graphics and rigid substrate printing, you have a choice when it comes to which fabric printing technology to utilize to achieve your goals—dye sublimation or another technology (UV, latex, solvent)?
All of these technologies offer advantages and disadvantages and all have their proponents as well as their detractors.
Explore the possibilities by discussing the various options with manufacturers, distributors, and your existing shop network.
Factors to take into consideration typically include: lightfastness; fabric/materials gamut (what type of fabrics and materials can the printer print upon?); color gamut/vibrancy; durability/washability; and more.
Dye sublimation continues to expand its presence in the textile market, says consulting group Smithers Pira. In its recent report, The Future of Dye Sublimation Printing to 2021, the organization forecasts that, in 2021, "nearly 900,000 square meters of textiles will be printed with the process, creating a global market worth nearly [$3.4 billion]."
But, the consultancy indicates, "…dye sublimation, as a process, is limited to use with synthetic or synthetic-coated materials—overwhelmingly polyester—by the need to bind the dyes into the internal fibers. In the future, dye sublimation systems may face competition from pigment inks, if their suppliers can resolve quality, reliability, and other issues. Pigments have greater substrate flexibility, and significantly this includes natural substrates, like cotton.
"This combined with their simplicity of processing and the tactility of the printed textile will enable pigment inks to grow, if the print process can become reliable enough at production scale."
Five: Heavy Metal and Beyond
If you've added the capability to print on rigid substrates, you're well aware that pursuing a new technology in-house generally involves adding more than a single machine to your shop's capabilities.
Printing on fabrics involves hardware beyond the fabric printer itself. It can also necessitate adding equipment that's particularly important in the finishing process and critical in turning the printed fabric into a saleable product:
A heat press
Cutters (including laser cutters that are fabric-specific)
Sewing machines/sergers
Grommet machines and others
Also keep in mind that you'll need to train staff to work with these components or bring in additional personnel.
"Digital textile printing is not as simplified as printing on latex, inkjet, or some UV wide format print systems," says Freer. "Assigning our very best digital print operator to the new system was the first and most important decision we implemented, to make certain our best new printer was paired with our best operator.
"Having your best print operator trained to understand all of the critical media feed, sublimation, and print profile calibrations goes a long way in producing great output and reduced waste."
Just as with hardware, bringing digital fabric printing in-house will also likely necessitate a new array of inks, software, and media/fabrics that are compatible with your machine(s), your applications, and, particularly for fabrics themselves, adequate storage space.
—Gregory Sharpless
Gregory Sharpless is a Jacksonville, Florida-based freelance writer and the former editor-in-chief of The Big Picture and Digital Output magazines.
Photos (top to bottom): Dreamscape, Top Value Fabrics, Merritt Graphics.