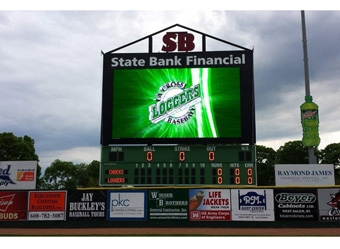 Daktronics Inc., of Brookings, South Dakota, was asked to design, manufacture, and install a new video display for the La Crosse Loggers baseball team. The display has improved the baseball experience at Copeland Park, also known as "The Lumber Yard," in La Crosse, Wisconsin.
"Having a video board has been a goal of ours since we started back in 2003 and, with the help of Daktronics, that goal has become a reality with the start of our 2014 season," said General Manager Chris Goodell. "The addition of our new board has completely changed and enhanced the atmosphere within our ballpark and we look forward to sharing the excitement with our fans. We are also very thankful to Joey Hulsebus and the entire Daktronics team, who have been fantastic to work with throughout the installation process."
The new video display is positioned above the existing Daktronics fixed-digit scoreboard. It measures approximately 17 feet high-by-30 feet wide and features a 15HD pixel layout to provide crisp, clear imagery with wide angle visibility.
Fans can enjoy one large image on this new display as it shows live video and instant replays. But the display can also be sectioned into smaller windows to show a variety of statistics and game information that fans crave. Sponsors are also able to send their messages to everyone in the crowd at different periods of the game as the content can be changed and rotated with ease.
"It's been great to partner with the Loggers on this exciting installation at Copeland Park," said Joey Hulsebus, Daktronics sales representative. "The display helps to bring a professional level in-stadium experience to Loggers fans at every home game and I'm excited to see the results as the season progresses."