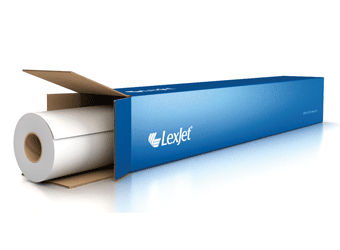 LexJet now offers FaceMount Perforated Window Grip, a 60/40 perforated film (60 percent printable area, 40 percent open area pattern) that makes inside window applications even easier. The film has a unique low-tack grip adhesive that's repositionable and easy to remove with little to no residue after it's removed.
You print to the window grip adhesive, which has an ink-receptive coating, and apply the graphic to the inside of the window with the adhesive and image facing out. The polyester liner ensures a smooth application since it helps prevent the film from tunneling and curling during installation.
"Our customers have been asking for a see-through window film that they can apply to the inside of the window. In some areas of the country restrictive sign codes do not allow you to apply graphics to the outside of the window, plus you get extra protection when the graphic is applied inside the window," says Dione Metnick, LexJet product manager. "With FaceMount Perforated Window Grip installers have the additional bonus of a repositionable adhesive that makes application a breeze."
Once the film is applied it will stick to the glass for up to a year. The 60/40 perforation pattern provides image quality and clarity when viewed from the outside and is see-through from the inside looking out.
LexJet FaceMount Perforated Window Grip is designed only for use with low-solvent and solvent printers and is available in 54″ x 82′ and 27″ x 12′ rolls.
For more information and to order, contact a LexJet customer specialist at 800/453-9538.