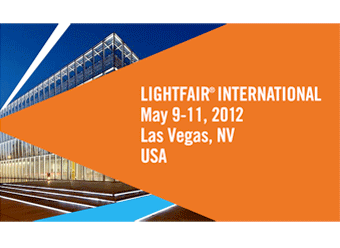 LIGHTFAIR International (LFI), the world's largest annual architectural and commercial lighting tradeshow and conference, will feature three dynamic keynote presentations on topics relating to technology, entertainment, and energy efficiency. Acclaimed educator and entertainment technology visionary Don Marinelli and computer graphics and digital lighting innovator Paul Debevec are keynote luncheon speakers during the LIGHTFAIR Daylighting Institute® and LIGHTFAIR Institute®, and "Green Embassy" trailblazer and environmentalist Ambassador Bruce J. Oreck will be the featured LFI show keynote speaker during the tradeshow taking place at the Las Vegas Convention Center during LFI 2012.
The two 2012 keynote luncheon presentations held during the LFI Pre-Conference program are:
A Curriculum for the 21st Century: Storytelling, Architecture, Technology & Experience – Don Marinelli, PhD
Monday, May 7, 12:15pm-1:45pm
Twenty-first century digital natives deserve a 21st century curriculum. The Carnegie Mellon University's Themed Entertainment Association (ETC) has devised one. It is an approach to learning that places traditional subject matter into both a concrete and virtual world view.
Donald Marinelli is a tenured Professor of Drama and Arts Management at Carnegie Mellon University and the Executive Producer of the Entertainment Technology Center, which he co-founded with Randy Pausch ("The Last Lecture"). He is currently leading the expansion of the Entertainment Technology Center internationally.
Avatar and Beyond: Lighting Hollywood's Real and Virtual Actors – Paul Debevec, PhD
Tuesday, May 8, 12:15pm-1:45pm
Photoreal digital actors have become a practical reality in the last decade and are poised to revolutionize the entertainment industry. Paul Debevec from USC's Institute for Creative Technologies will explain the technical progression and application of his lab's LED-based "Light Stage" facial scanning systems, which have helped produce photoreal digital actors.
Paul Debevec leads the Graphics Laboratory at the University of Southern California's Institute for Creative Technologies and is a Research Associate Professor in the USC Computer Science Department. His work has appeared in films such as Spider-Man 2 & 3, King Kong, Superman Returns, The Curious Case of Benjamin Button, and Avatar.
The 2012 show keynote presentation is:
Illuminating Diplomacy: Opportunities of the Lighting Revolution in Foreign Commerce and Geopolitics – U.S. Ambassador Bruce J. Oreck
Thursday, May 10, 3:00pm-4:00pm
By 2040, demand for electricity will be up 80 percent and electrical generation will account for more than 40 percent of global energy consumption. Hence the remarkable gains in energy efficiency provided by the revolution in lighting technology will have profound geopolitical impact. Failure to adopt these efficiencies is projected to result in energy price escalations and supply shortages that will devastate economies and lead to political instability.
Ambassador Oreck will address the political challenges and business prospects of our new relationship with energy. Bruce J. Oreck was sworn in as United States Ambassador to Finland on August 12, 2009. He practiced law for over twenty-five years, served as General Counsel and Executive Vice President for the Oreck Corporation, and worked as a real estate developer.
Keynote luncheon presentations are included for all attendees signed up for courses during the two Institute days that make up the LFI Pre-Conference program. Keynote luncheon must be selected during the pre-registration process. The show keynote on Thursday, May 10, 2012 is open to all attendees and exhibitors and will be held in the Spotlight Lounge in the LFI exhibit hall. More information on the keynote presentations can be found at http://www.lightfair.com/lightfair/V40/index.cvn?id=10310.
The LIGHTFAIR Daylighting Institute® and the LIGHTFAIR Institute® take place as part of the Pre-Conference program on Monday, May 7 – Tuesday, May 8, 2012 and the LFI Tradeshow and Conference will run Wednesday, May 9 – Friday, May 11, 2012. For more information about LIGHTFAIR International, please visit www.lightfair.com.