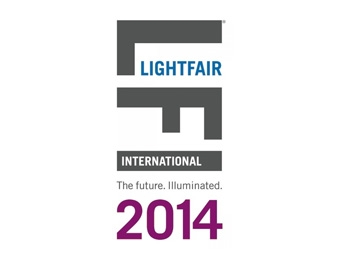 The LIGHTFAIR® International (LFI® 2014 Conference brings together top lighting and design experts to create the largest Conference in LFI's twenty-five-year history. The Conference continues as a centerpiece of the world's largest annual architectural and commercial lighting tradeshow and conference, which will take place in Las Vegas June 1-5, 2014 (Trade Show: June 3-5; Conference: June 1-5).
The 2014 Conference curriculum will champion integrated design as a central theme linking all courses, workshops and seminars in common focus to illustrate how technology, tools, problem-solving and inspiration converge in contemporary practice.
More than 140 speakers from diverse disciplines have been selected to cover a broad spectrum of educational topics. The 2014 program will contain eighty course offerings—totaling more than 220 hours with AIA, ASLA, BOMI, IDCEC, IES and NCQLP accreditation—available in the Pre-Conference LIGHTFAIR Institute® and the LIGHTFAIR Conference. The program includes 11 Institute courses, 17 Institute workshops, 37 seminars, two Lunch & Learn seminars, three Conference workshops, and 10 Forum seminars.
The newest additions to the Conference are two dynamic all-day Forums—LFI Healthcare Lighting Forum and LFI Hospitality Lighting Forum—which each offer five specialized ninety-minute seminars presented by industry experts. The LFI Healthcare Lighting Forum will feature global trends, patient room lighting, case studies, evidence-based design, a hospital panel, energy efficiency and healing environments of the future. The LFI Hospitality Lighting Forum will cover collaborative design, hotel and restaurant renovations, story-telling through lighting, LED retrofit savings and lighting strategies for hotels and convention centers.
New features for the 2014 Conference program:
+ Shift from course tracks to four theme areas: Inspiration, Technology and Tools, Problem-Solving and Integrated Design
+ Debut of two new all-day Forums: LFI Healthcare Lighting Forum and LFI Hospitality Lighting Forum
+ Introduction of exhibitor-led Lunch & Learn Seminars
With integrated design as its platform, the LIGHTFAIR 2014 Conference will create a vibrant atmosphere in which experts from diverse disciplines come together to present, discuss, debate, exchange and explore best practices and emerging concepts.
LFI 2014 speakers will include experts from the lighting industry and other industries and professions such as architecture, design, engineering, exterior and roadway planning, facility management, government, health care, hospitality, alternative energy (including solar power), and more.
The LIGHTFAIR 2014 Conference provides knowledge and perspectives on how a collaborative, multidisciplinary approach can improve design outcomes for the betterment of the human experience through four theme areas:
+ Inspiration sessions address rule-breakers, creators of new pathways, re-defining the human experience within the built environment.
+ Technology and Tools sessions address new and innovative elements in areas such as software, sources, luminaire components, controls, alternative/solar energy sources, daylighting, and beyond.
+ Problem-Solving sessions address the process of achieving a viable solution through the successful combination of ideas. Situations may range from business-related issues to technology and design.
+ Integrated Design sessions address the holistic design process of a product or an environment that incorporates the collaboration of design professionals, manufacturers, builders, owners and/or end-users.
For LIGHTFAIR International 2014, the Pre-Conference program will take place from Sunday, June 1 to Monday, June 2, 2014 and the LFI Trade Show and Conference will run from Tuesday, June 3 to Thursday, June 5, 2014.
For more information about LIGHTFAIR International, visit www.lightfair.com.