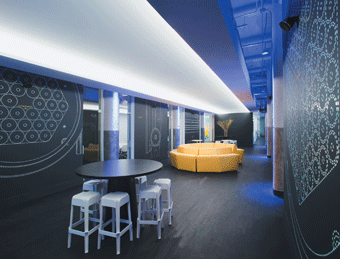 Lumenpulse Inc., a leading innovator and manufacturer of high performance, architectural LED-based lighting solutions for commercial, institutional, and urban environments, today unveiled its completed Corporate Headquarters located in Montreal, Canada.
The office debut was celebrated on the evening of December 1, with an exclusive event titled the "Evolution of Light." A select guest list, including architects, lighting designers, agents and partners, investors and members of the media were treated to a facility tour and a night of celebration. Entertainers guided groups of guests through the office space, and a short video traced the history and evolution of light from the Edison era to the present day.
After the tour and welcoming speeches, over 500 guests were able to enjoy an evening of food, drinks and music. A four-piece jazz band entertained guests in the early part of the evening, before a song—specially commissioned for the event—was used as a transition to a DJ for the latter part of the event.
Located near the city's Lachine canal, the facility combines a 20,000-square foot office space and an adjoining 45,000 sq.ft. manufacturing facility where Lumenpulse fixtures or products are created. The office space is custom designed to reflect the Lumenpulse brand and culture, and is exclusively illuminated by Lumenpulse's own award-winning architectural LED lighting fixtures.
The move to the new headquarters accommodates the rapid expansion of Lumenpulse, which has grown its personnel count by 112% over twelve months. The company was named to the PROFIT HOT 50 of Canada's Top New Growth Companies in August and is focussed on addressing the growing worldwide LED fixtures market, which is estimated to reach $9 billion by 2014 according to Strategies Unlimited.
"We have experienced rapid growth as we continue to see increasing demand for our LED fixtures from around the world," said Francois-Xavier Souvay, president, CEO and founder of Lumenpulse, "The new Corporate Headquarters exemplifies what Lumenpulse is all about—innovation, performance and the future evolution of light. Lumenpulse DNA runs through the building, and it positions us well to become the next architectural LED lighting global leader."
Lumenpulse's award-winning fixtures are already in use at venues like Vancouver's BC Place stadium, Yale-New Hospital in Connecticut, and the House of Blues in Los Angeles.