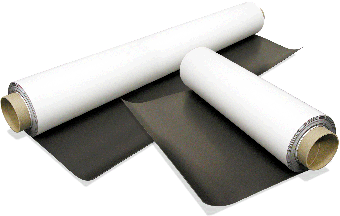 By Jeff Wooten
When it comes to cost-effective flexible magnet sheet, vehicles still remain the most popular surface for applications in the sign industry—chiefly because, opposed to a longer-term vinyl wrap, they can be easily removed and replaced. "The end-user can quickly change-out their messages," says Stephen S. McLevey, customer service and product manager at Flexmag Industries.
According to McLevey, a lot of terminology you'll find being bandied in the magnet industry is related to thickness, and as a sign maker selling this product, it's important for you to know which sizes work best where. He points out that the magnet size used in vehicle applications should utilize the industry-standard 0.030-inch thickness. "That size has been found to have a lesser likelihood of the magnet being blown off the vehicle," explains McLevey.
Mike Gertz, marketing manager at Master Magnetics, stresses that it's also just as important for sign shops to educate their customers about the appropriate thickness for a particular application. "For example, a 15-mil size is strong enough for indoor refrigerator-type magnets," he says.
What's So "Attract"-ive?
One thing you'll notice about the medium's appeal is that they combine "inexpensive" with "long-term." "People don't throw magnets away, so the message promoting a company's product or service will stay around them much longer," says Gertz.
McLevey gets right to the point: "Magnet is the advertising media that 'sticks' around!" he notes.
Overall flexible magnets can be sold to your customers anywhere a steel surface is available for display (both indoors and outdoors). Again popular surfaces remain vehicles and refrigerators, but expanding your reach with this medium can include some "outside-the-vehicle" thinking. As examples, McLevey brings up point-of-purchase displays, in-store graphic systems, and banner ads as possible graphics-on-magnet-sheet hosts.
Sometimes you can include magnets as add-ons for clients who've purchased a larger sign order from you, as an added mean for them to "attract" customers. "Magnet sheet can be used as promotional materials, such as business cards, menus, calendars, and sports schedules," suggests Gertz.
McLevey also stresses the use of flexible magnets as support mechanisms for signage, giveaways, and other promotions. "Political campaigns often include magnetic cards with slogans and other messages," he adds, pointing toward another possible market.
"Stick" to Decorating Magnets
Vinyl stenciling has long been a popular form of magnet decoration. "People will buy a magnet sheet with a white vinyl already applied to it. Then they'll buy vinyl lettering or pre-cut-out shapes (the matrix, the leaves, etc.) and apply that to the white vinyl," explains McLevey.
The varied options for decorating flexible magnet sheeting via printing has boomed over the years (digital, inkjet, offset, flexographic, screen print, etc.). One reason: The ability to print directly to the magnet saves sign shops and graphics providers time and money, which in turn leads to more time for more jobs. "With the new printing technologies in place, today's magnetic material is a great fit for photo-quality printing," suggests McLevey.
But there are still issues to consider, in order to achieve a smooth printing process onto the magnet.
For starters, not all printable magnetic sheeting is the same. "Some hold the color, clarity, and high resolution of an image exceptionally well, while others can look dull and washed-out," details Gertz. "Sign makers need to consider the ability of the printing surface to accept high-resolution printing with a variety of inks." (Note: Lamination shouldn't be necessary using solvent, eco-solvent, UV, and latex inks, yet aqueous ink printed on a paper topcoat does require it.)
Remember earlier how thickness was mentioned as a constant in magnet talk? Well weight plays an important role in the direct printing process too. (Calling Jenny Craig!) "Be sure the weight of the magnet sheet doesn't inhibit its smooth feeding into the printer," advises Gertz.
If you're using a printer with steel parts or metal platens, this can cause a sticky situation with the magnet, so you'll need to cover them with Teflon® tape. "Another two-step option is printing the graphic onto an un-magnetized sheet and then magnetizing it post-print," points out McLevey.
"Receptive" to Magnets
There are more possibilities for magnetic decoration than just flexible sheet. For example, magnetic-receptive paints (featuring magnet particles suspended in the paint formulas) can be applied to make non-magnetic surfaces magnetically receptive.
Interested in post-print magnetization (as mentioned a few paragraphs earlier)? Well magnetic-receptive media allows sign professionals to instead use a thin, smooth, and flexible substrate that acts the same but is lighter weight.
Another example: A magnetic host can be installed as a fixture, while the graphics or messages can be frequently refreshed on it. "One of our clients repositions the fixture anywhere they want, prints out the graphics with magnetic-receptive materials on the backside, and then places the graphics onto this wall holder," explains McLevey.
Note: In situations where steel surfaces are unavailable, Flexmag also produces Ferrosheet™, a magnetic-receptive flexible sheeting that allows the flexible magnets to be applied without the pole alignment challenge caused by magnet-to-magnet attraction.
Ferrosheet is available in standard .025-inch thickness up to twenty-four inches wide. Meanwhile standard and custom adhesive options are available. It can also be screen printed, pad stamped, and hand-lettered.
Flexmag has also introduced a new product called Flexcoat-EZ. This is a flexible magnetic sheet that is coated with a printable surface. "Flexcoat-EZ is the only flexible magnetic product that is qualified by Roland for use on their wide format inkjet printers," says McLevey. "We also manufacture other industry standard magnet configurations that utilize vinyl, polypropylenes, and papers."
Meanwhile Gertz points out that his company's FlexIron is a flexible ferrous material that looks like magnetic sheeting—but isn't magnetic. "It's available with an adhesive side and a printable side," he says. "This allows a non-magnetic wall or sign to have a printed image on it that attracts magnets."
According to Dan Halkyard of Visual Magnetics, creator of the Visual Magnetics Graphic System™, magnetic-receptive media also allows signs makers to create an unlimited range of dynamic, stunning displays. "Retail P-O-S signage and restaurant menu-boards are popular applications, because the flexible and lightweight nature of the print media allows in-store personnel to easily change-out graphics," he says.
Visual Magnetics Graphic System™ features patented Micro-Iron™ MagnaMedia® printable films to produce stunning photo-quality graphics that enable design flexibility and allow for multi-layering of graphic panels. "MagnaMedia works on all printing platforms and is as easy to install as simply rolling down the graphic," says Halkyard. "Magnetic-receptive media is different than magnet sheeting in that it is not a magnet, rather a thin, flexible, high-quality, print media coated on the back with a Micro-Iron™ particles that attract to magnet. This solves a lot of the 'ease of use' issues associated with printing directly to flexible magnets.
"Visual Magnetics MagnaMedia are compatible with most analog and digital print technologies. Most applications are for indoor, short-term promotional signage where lamination is not required. Magnetic receptive media can be laminated typically with thin gauge film laminates or liquid laminates if desired."
Decorating the graphic with die-cut graphic accents made from the same magnetic-receptive media and then layered on a base image can produce some very interesting three-dimensional graphics that demand attention. "Adding three to four layers of the magnetic-receptive graphic isn't uncommon with these types of display systems," explains Halkyard.
This material can also be sold to businesses and retailers looking to save significant dough on shipping costs. Halkyard cites his company's work here for sunglasses and eyewear manufacturer Oakley.
This retailer's employees are replacing display faces on foam board, "cash-wrap" P-O-P displays with graphics printed on Visual Magnetics's magnetic-receptive materials. "Before this project's implementation, every time Oakley changed its P-O-S assets, the company had to send flat panel display shipments weighing sixty pounds (or more) to each store," details Halkyard. "Invariably some of these shipments were damaged in transit, so further resources were needed to recoup those losses.
"By implementing magnetic-receptive roll media, Oakley cut its shipping costs associated with in-store signage by more than 50 percent and eliminated the incidences of damage in transit."
Long story shorter: The in-store employees simply unroll the media onto the sign surfaces, and the job is done.
This magnetic-receptive media uses particles on its backs to attract to a magnet, which makes direct printing to them a bit more "attractive." "It can be repositioned, updated, and even layered," says Halkyard. "And once the graphics are retired, they're completely recyclable.
"Waste can also be reduced significantly by creating 'layerable' graphics, where displays are updated without having to replace their frames or use fasteners and/or adhesives."
"Stick"-ing to Facts
However the customer decides they want to use a flexible magnet sheet for display purposes, you need to inform them about their proper care. "It's important to remove the sign and clean underneath it, so that dirt and grit don't collect and scratch any paint on a surface," says Gertz.
When it comes to storage advice, McLevey advises laying flexible magnets flat. "If you're unable to do so, roll them with the printed-surface facing out," he adds. "That way, when someone goes to place a magnetized car sign on a vehicle, they don't have that set or curl lifting the edges up, and it doesn't lay down flat on the vehicle when you place it on.
"If the edges are curled up, then the wind will blow it off."