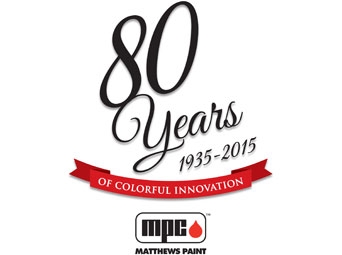 In 1935, FDR was pulling the U.S. out of the great depression, Babe Ruth hit the final home run of his career, and Ed Matthews opened the first Matthews Paint store on Belmont Avenue in Chicago. Now in 2015, Matthews Paint is celebrating 80 years serving the needs of the architectural signage industry.
What began as an entrepreneurial passion has evolved into the benchmark standard for sign paint. The history of Matthews Paint is one of continual improvement to meet the needs of sign fabricators and architects. With expansions to larger facilities in 1968 and 1993 and the purchase of the business by PPG in 1995, Matthews Paint has met the challenges of growth and market changes.
Significant recent developments include the introduction of MAP‐LV, the ultra low VOC paint, in 2009. This helped secure Matthews Paint's position as a leader in providing environmentally­‐minded products. This was also the year that Matthews Paint relocated to Delaware, Ohio to accommodate growth. In 2012, Matthews Paint introduced its newly acquired brands—1‐Shot, Lacryl and Field Master. The acquisition broadened Matthews Paint's representation in the sign fabrication market.
"As we reflect on our history, success and future, we owe a debt of gratitude to our employees and loyal customers without whom none of this would be possible," stated Jan Scheske, manager of Marketing and Customer Service at Matthews Paint.