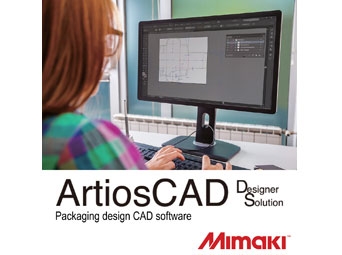 Mimaki USA, a leading manufacturer of wide-format inkjet printers and cutters, will be previewing ArtiosCAD® Designer Solution (ArtiosCAD DS) software.
When teamed with a Mimaki UJF-6042 printer and CFL-605RT cutting plotter, this combination provides the ability to easily and economically create short-run customized goods or produce packaging prototypes. ArtiosCAD DS software will be demonstrated in the Mimaki booth #2644 at Graph Expo®, September 13-16 in Chicago.
ArtiosCAD is the world's most popular structural design software for packaging design. The ArtiosCAD DS version was developed for Mimaki by Esko, a global supplier of integrated solutions for the packaging and label, sign and display, commercial printing and publishing industries.
Complete system for package design, custom-decorated pieces
ArtiosCAD DS Software will be brought to the North American market as part of Mimaki's Original Goods Package System (OGPS) that also includes a UJF-6042 UV-LED tabletop printer and a CFL-605RT compact cutting plotter. OGPS is a total solution for on-demand production of original packaging or package prototypes.
The demand for production for customized goods and packaging design for prototypes has increased; however, the process often requires professional packaging design knowledge and skills to operate complex software.
ArtiosCAD DS software features 402 packaging templates and easy editing functions suitable for any level of user, even those without CAD experience. Users simply choose a template, select the material thickness and set the inside dimensions. Useful tools for common tasks such as rounding corners or adjusting the interior trim are included. More advanced functions – such as the ability to create hanging tabs – are also included. By using a downloadable plug-in, users can import ArtiosCAD DS files into Illustrator® to add images and design elements.
Ideal for Print Service Providers and Package Design Studios
The OGPS combination provides the ability to easily and economically produce complete customized goods, including printing on pieces, packaging design and manufacturing, and cutting of cushioning material. Print service providers that want to differentiate their offerings can use OGPS to create original novelty items, awards, gifts, etc., and the custom packaging.
This system also enables the production of package prototypes that accurately reflect the designer's intent. With this system, designers and brand managers can achieve packaging design actualization in shorter timeframes. Package design studios can use OGPS to reduce time spent on, and maintain control over, the package design process.
Availability
ArtiosCAD DS software, as part of the Original Goods Package System, is expected to be available for order later this year for the U.S., Canada and Latin America markets.