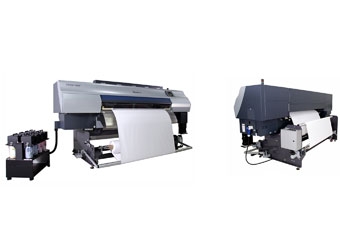 Mimaki USA, a leading manufacturer of wide-format inkjet printers and cutters, announced the MJF500-1800 industrial media handling system as an option for new and installed Mimaki TS500-1800 high-speed transfer sublimation printers. The new bulk roll media handling system adds versatility and expands the capabilities for high-speed dye sublimation printing.
The industrial design of the new MJF500-1800 system can handle paper rolls up to 600 lbs. with an external diameter of 20 inches giving digital textile producers the ability to take full advantage of the high throughput capabilities of the Mimaki TS500-1800 printer. Using the new bulk roll media handling system, Mimaki customers can become more productive by minimizing material change interruptions while also increasing profitability by printing long production runs on cost-effective transfer paper for sublimation to a wide range of textiles.
The MJF500-1800 media handling unit is custom-built for Mimaki by Selco Inc., based in South Carolina. It will be sold and serviced exclusively through Mimaki USA and its authorized representatives. Features of the MJF500-1800 system include:
• Accommodates rolls up to 600 lbs.
• Supports transfer paper rolls with an external diameter of up to 20 inches on a 3-inch core
• Custom engineered to eliminate vibration and wobble that can occur at high print speeds, resulting in consistency and higher repeatability between jobs without sacrificing throughput
• Includes air shaft providing increased accuracy by eliminating core slippage
• Easy access for loading and unloading
• Compact footprint
• Includes casters for mobility and user-adjustable levelers for easy installation
• Easy to use controls that automatically adjust to the speed of the printer
The MJF 500-1800 is available for order now. It can be ordered as an option with all new Mimaki TS500-1800 printers, and as a field upgrade for existing Mimaki TS500-1800 printers. It carries a U.S. list price of $29,995 (unit only).