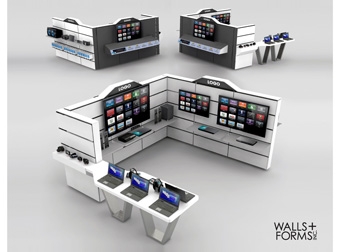 The Walls + Forms modular wall system makes it easy to change your Shop in Shop with your customers and buying patterns, and to change your store as easily as you could change your mind. It is used throughout the U.S. in major retail stores because it is easy to install, looks stunning, and has the flexibility to change to suit the demands of today's retail environments. This system future proofs your store by allowing you to easily reconfigure the shape of your store and add or delete wall footage as needed.
Modular wall system from Walls + Forms saves time and money through its stunning simplicity.
The concept is based on a forty-one-inch-wide aluminum frame, a unique Plumb-Easy wall bracket system, and a skin of easy to change plates. There is nothing complicated; frames, panel plates, connecting hardware and accessories than hang directly onto the frame unit are the only components involved. In addition, it provides a clean appearance with no visible wires. Power outlets are hidden behind the plates, while power cords from electrical products are inserted between them.
The Walls + Forms modular wall system is packed with benefits. It offers effortless concealment of cables and power outlets, simple front-loading access to power and wiring in an easy to assemble modular wall system with a high load-bearing capacity. There are no complicated parts to "worry about", minimal wall preparation is needed since it easily goes in front of unpainted walls, and it saves up to 60 percent of man-hours during installations. It offers easy to change configurations—you can add modules or walls in minutes and you can change your store color by simply changing plates.
Modular Wall System from Walls + Forms can be quickly and easily installed by contractors or unskilled labor with little more than a level and a drill. This unique system allows you to setup temporary departments, add panel frames where & when needed, and configure wall and floor panel frames over and around existing obstruction. Panel frames "naturally float" off of your existing wall six to eight inches, and you can install this system today and change it tomorrow or when your needs change. It is a progressive wall and floor display system that enables easy to install design with no metal retainers, diagonal stretchers, bases or outdated structures.
The modular wall system from Walls + Forms offers design freedom whereby you could change colors and patterns in minutes. Based on modular frame units, a surface of easy-to-change colored plates and a full range of fittings and accessories, it enables you to easily change the look of the store in minutes. With this kind of flexibility comes the freedom to change a wall to promote a sales event, change an entire store to the new season's colors, or relocate a whole department; all without involving any contractors or outside labor. Walls + Forms even has a modular wall system gallery, which shows how versatile the modular wall system is for creating the desired Shop in Shop.