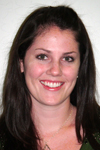 Mutoh America Inc. proudly appoints Michelle Pugh as their newest marketing coordinator. Michelle's background in public relations and sales makes her the perfect fit for Mutoh's marketing department.
Working under the guidance of General Manager: Brian Phipps and Director of Marketing: Hiro Futsukaichi, she will be responsible for coordinating trade shows and Mutoh's Hands-On School of Wrap. Along with events, Michelle plans to grow the business by using her public relations, writing and design skills.
Prior to joining Mutoh America, Michelle worked for IKEA Tempe. Michelle worked with in-store activities, graphic design, trade shows, store grand openings and newsletter articles. Michelle was also voted co-worker of the year and was a member of management training programs. Michelle gained a variety of marketing experience within the retail sales industry that will facilitate a smooth transition to her current position as Marketing Coordinator at Mutoh.
Preceding her work in the retail industry, Michelle worked at two internships at KNVX, ABC 15, and The Media Push L.L.C. Working in the fast paced world of entertainment and agencies, Michelle gained knowledge of writing, organizational and customer service skills. In August 2008, Michelle graduated from Arizona State University with a degree from the Walter Cronkite School of Journalism and specialized in public relations.
"I am extremely excited to join the Mutoh America team and to further my career in this exciting industry. Everyone at Mutoh has been welcoming and helpful. I look forward to the future and the growth within the company and myself!" says Pugh.
To contact Pugh, email [email protected].