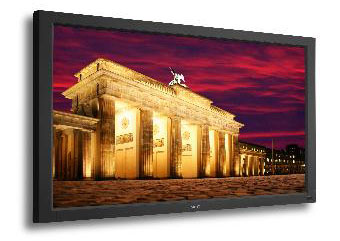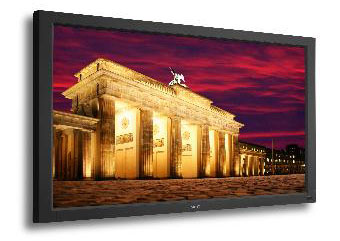 NEC Display Solutions of America
has added three new models to its commercial-grade V Series large-screen display product line. The 46-inch V462 will replace the V461, and the 46-inch V462-AVT and 65-inch V651-AVT with integrated tuners are new to the product line. These three models offer digital signage users a cost-effective solution.
Designed for extended use in retail, restaurants, indoor venues, training facilities, and corporate boardrooms, the V Series includes full 1080p high-definition resolution; built-in, low-profile 10-watt speakers; and a built-in expansion slot that allows for seamless integration of NEC accessories, third-party components, and Open Pluggable Specification (OPS) products. Additionally, the new DVI loop-through option allows customers to pass a digital signal from one device to the next, thereby eliminating the need for additional hardware, such as a DVI daisy chain module. The V462, V462-AVT, and V651-AVT also include popular features such as NEC's TileMatrix™ technology for building video walls up to 100 displays, a real-time scheduler to power on/off the display at a specific time, and remote diagnostics to monitor and control the display from an off-site location.
"The next generation in our V Series lineup aims to provide better connectivity with added features that will help simplify and future-proof digital signage projects," said Rachel Karnani, product manager for Large-Screen Displays at NEC Display Solutions. "The added NTSC/ATSC tuner in the 46-inch and 65-inch sizes will also enable customers to install the product where high-definition broadcast capabilities are desired."
The V462, V462-AVT, and V651-AVT include the following features:
Commercial-grade, sealed panel design with advanced cooling capabilities
Maximum brightness of 450 cd/m" (V462 and V462-AVT) and 500 cd/m" (V651-AVT)
Contrast ratio of 3000:1 (V462 and V462-AVT) and 5000:1 (V651-AVT)
Full 1080p high-definition resolution
Expansion slot supports the Open Pluggable Specification (OPS), which is the industry's first standardized option slot that simplifies digital signage installations
Enhanced connectivity with DisplayPort, HDMI and DVI
Enhanced loop-through capability with DVI and Composite Video
Improved mechanical design with slimmer depth
Remote diagnostics and external control, including RS-232C, RJ45 LAN, IR Remote, DDC/CI
TileMatrix technology (up to 100 displays)
Real-time clock has the ability to set schedules for display on/off times and warmup 30 minutes before use for optimum color representation
Text ticker enables the display of emergency warnings or breaking news updates in a dedicated portion of the screen
Programmable lookup tables (LUT) and 10-bit color over an HDMI connection
Carbon footprint meter tracks and calculates the conservation of green gas emissions
Protective-glass and touch-panel-ready design
Built-in NTSC/ATSC analog/digital tuner allows for high-definition broadcast capabilities (V462-AVT and V651-AVT only)
Optional accessories and products for the V651 include stands, wall mounts, external PCs and media players
The V462, V462-AVT, and V651-AVT will be available in July 2011 at a minimum advertised price of $1,149, $1,249, and $5,399, respectively. The displays ship with a three-year parts and labor warranty, including the backlight.