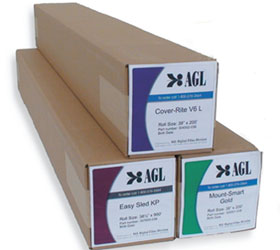 Advanced Grieg Laminators, Inc.
(AGL) announces the recent expansion of its materials distribution network by opening its East coast warehouse in Secaucus, New Jersey. The new facility is well suited for stocking and distributing Cover-Rite™, Mount-Smart™, and Shadow-Block™ laminating materials, as well as Print-Smart™ media to the Northeastern United States. Featuring a climate-controlled environment, the new distribution facility is able to properly protect all in-stock laminating materials.
The new location will enable AGL to better service their digital films customers by providing same-day delivery for the New York metropolitan and northern New Jersey areas, and one-to-two day service for Pennsylvania and other New England states. It will also have its own courier delivery service where local accounts will receive same-day, door-to-door delivery for any product in the AGL Digital Films line.
"We are elated with the growth in business we're experiencing within our East coast region," says Brian Buisker, president of AGL, Inc. "The opening of our third warehouse continues our solid commitment to our Digital Films customers by continuing to offer laminating materials and services that they need and request from us."