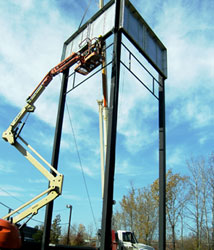 OSHA has issued the
Small Entity Compliance Guide for Cranes and Derricks in Construction
to help small businesses comply with the recently published Cranes and Derricks in Construction rule. The rule was published in August 2010 to address the number of worker injuries and deaths associated with the use of cranes and derricks in construction. The rule also addresses technological advances in equipment since the old rule was issued in 1971.
The guide is divided into chapters that correspond to sections of the standard. Also available on the agnecy's Cranes and Derricks in Construction Web page are a number of OSHA compliance materials on crane-related topics including a PowerPoint overview, Web chat transcript, Webinar, list of frequently asked questions, and fact sheets.
For those interested in certification training, the International Sign Association is holding Mobile Crane Operator Safety Certification Training and testing in more than 40 locations across the country. For more information, visit www.signs.org/cranetraining.
Photo courtesy of Ace Sign Company.