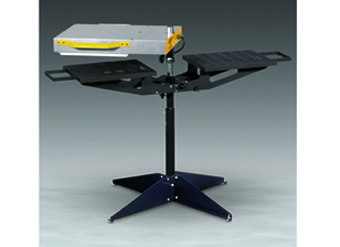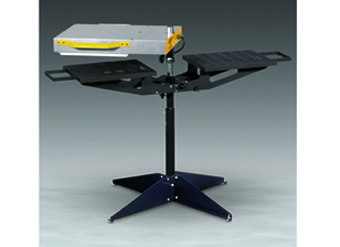 Vastex International has introduced a new, low-cost F-1000 Flash Cure Unit with a 1950-watt, 18-by-18-inch (457-by-457 mm) heater that carries a 15-year warranty.
The "high-density medium-wavelength" infrared heater used in the F-1000 has closely spaced coils which eliminate cold spots and under-curing associated with conventional infrared heaters, according to the company.
Fixed heat shields on four sides of the enclosure allow positioning closer to the garment, improving edge-to-edge temperature uniformity for increased output and image quality.
The F-1000 unit is offered in a 120 V model that replaces Vastex model R-18-120 and a 240 V model (both of which are offered at $649).
The F-1000 unit is also equipped as standard with: a temperature control; NEMA 6-15P (120V) or in a (240V) version with either NEMA 6-15-P or international plugs; extra-large side handles; head leveler to adjust the heater parallel to the pallet; and a sturdy, four-leg stand with casters and vertical adjustment collar allowing 360° rotation.
An optional Rotary Table with two vented steel pallets allows the F-1000 unit to double as a low cost dryer.
Also optional is an Auto-Flash AF-120 or AF-240 upgrade that rotates the head into place above the pallet with the touch of a foot pedal, and automatically rotates the head away from the pallet after a user-adjustable dwell time has elapsed, to prevent over-flashing and under-flashing of garments.
The company also manufactures screen printing presses in one to ten colors and one to ten stations, other flash cure units, infrared conveyor dryers, heat presses, screen exposing units, screen drying cabinets, screen registration systems and complete screen printing shop systems, and offers a comprehensive range of training classes for entry level, intermediate and advanced screen printers.
For more information, call 800/482-7839 or visit www.vastex.com.