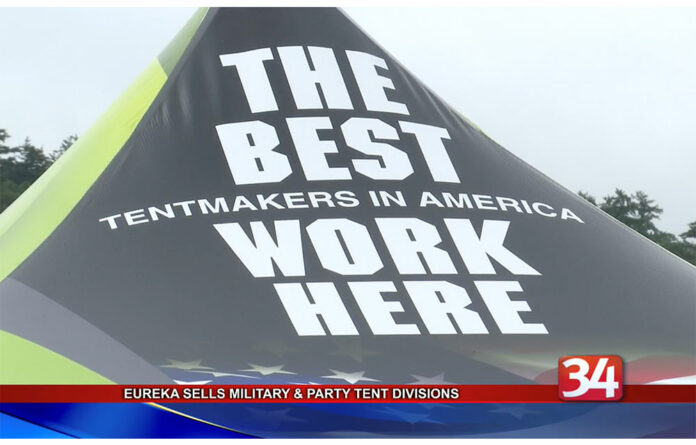 The consumer expectation of a brand experience has evolved over the past several years in the direction of even greater customization, personalization, and immersion. According to experts, companies have mere seconds to make a good first impression on customers. Thanks to the recent purchase of one of the most innovative large format tent printers, trusted Binghamton, New York tent manufacturer InTENTional Systems is stepping up custom branding by providing corporations with high-quality custom tents for the fully immersive branded experience.
InTENTional Systems new state-of-the-art HP 2700W+ printer allows for shorter lead times than the long wait for hand-stenciled or silk-screened designs, printing at speeds of up to 958 ft²/hr. The HP 2700W+ also offers five-color printing with water-based HP Latex environmentally friendly inks that print vibrantly onto vinyl, including white onto black or colored material. InTENTional Systems can now custom-print branded tents up to ten feet wide.
"To reach higher margins and win new business, our print customers are always on the hunt for technology that allows them to say yes to more jobs with the confidence to deliver exceptional results," said Oriol Gasch, head of Large Format Printing North America, HP. "Our solutions are designed to enable this.
"The HP Latex 2700 printer, for instance, delivers increased print quality, raw speed and white ink capabilities that will amaze end-customers on virtually any application, from glass windows to tent fabric. White ink allows users to produce a more impactful range of signage, events, and décor jobs—with stunning image quality and colors that jump off vinyl, banners, canvas, or tents!"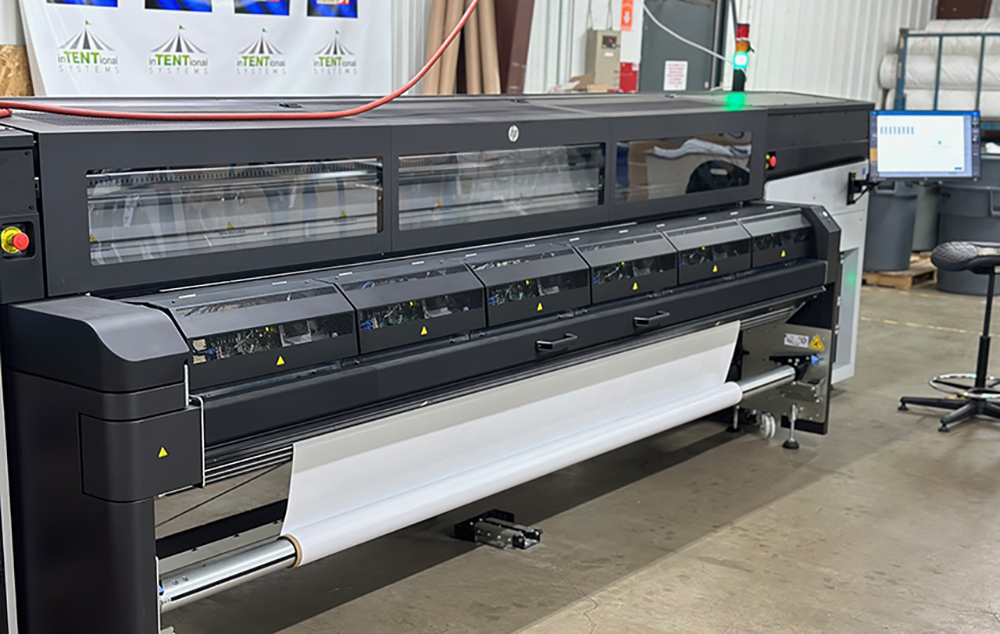 InTENTional Systems has owned their new, top-of-the-line large format printer for just months, had not yet formally announced this innovative printing capability and has already printed custom tents for activation at large events and music festivals on behalf of several popular brands, including a Fortune 500 company.
"InTENTional Systems has always been about providing our customers with the best," said Trent Nelson, senior mechanical engineer of InTENTional Systems. "We've recently gotten the opportunity to double down on the quality that our customers have come to expect from us by offering the best customized printing capabilities available."
InTENTional Systems specializes in flame and wind-resistant party tents, pole tents, frame tents, keder frames, high-peak frames, canopies, clearspan structures, sidewalls/ lighting, and accessories.
Visit InTENTional November 6-9 at the MATRA Show in Atlantic City, New Jersey, to see these custom-printed tents in action.
—Press Release