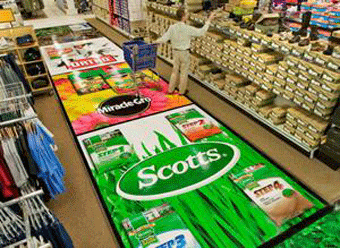 At SGIA Expo 2011, FLEXcon, an innovator in adhesive coating and laminating, promoted new products designed specifically to meet the needs of brand advertisers and retailers. FLEXcon's solutions for counters, floors, walls, windows and point-of purchase displays and signage, transform retail locations into interactive environments that increase the value of the consumer shopping experience and ultimately drive sales.
FLEXcon also announced it is also extending its "greener" offerings, presenting more environmentally friendly solutions, while enhancing a space. The products are ideal for the graphics community, PDAA installers, brand managers, marketers and advertisers that want to influence consumer decisions at the point-of-purchase (P-O-P). FLEXcon's new products cover all areas of the retail environment and include:
Counters: Transform counter space with COUNTERdeco™ the new "greener," non-vinyl counter advertising system available with clear matte polyolefin or clear polyester overlaminates. Quick-serve restaurants across the country are specifying that the materials used for counter and table-top graphics must be FDA indirect food contact compliant. FLEXcon's new system not only meets this requirement, but is a non-PVC, "greener" solution.
Floors: FLEXmark® floor art™ (pictured, right) in white, clear, silver and brushed silver is ideal for creating large graphic promotional branded zones that drive foot traffic, and endures the associated wear and tear to be completely effective through the life of the promotion, whether it is short- or medium-term. These standard and custom solutions allow brands and retailers to incorporate dramatic effects that match their brand look or create specific shapes or effects, turning even the most heavily trafficked tile floor into a dramatic, beautifully decorated, eye-catching branded zone.
Walls: Transform retail wall space with three new "greener" WALLdeco™3 non-vinyl products. The latest offerings feature a microsphere repositionable, removable adhesive designed for short-term, interior large format (life-size) and small format contour-cut wall graphic decals ideal for application to flat, smooth painted non-vinyl wall boards. Now retailers can refresh their retail environments and transform wall space instantaneously to create their ideal atmosphere.
Windows: FLEXcon's new WINDOWdeco™ super clear, opaque and translucent window films offer a variety of benefits for eye-catching window graphics. New super clear films yield sharp, crystal clear window graphics and are ideal for interior or exterior mounted window graphics in retail and architectural settings where a greater level of vision or transparency is required. They can also reduce heat and glare, control light and provide an element of privacy or security. New 6-mil opaque white vinyl offers greater durability and ease of installation, while new translucent vinyl provides excellent uniform light diffusion for eye-catching backlit window graphics.
Billboards: FLEXmark® BILBRD™ SWVG gloss is ideal for general-purpose permanent signage and transforming retail displays and tradeshows spaces, where a gloss appearance is preferred.
"FLEXcon is continuously innovating to deliver products that meet printer, installer, brand and retailer needs for functionality, durability and aesthetic appeal," said Don Ryel, vice president, Product Branding Business Team, FLEXcon. "Our newest products for the retail environment meet these needs, while allowing marketers to differentiate their brand and engage customers. Making your brand stand-out is critical in a competitive retail economy. FLEXcon solutions can be customized for long-term and short-term designs and leave a lasting impression."
FLEXcon also participated in SGIA's Professional Decal Application Association (PDAA) Graphics Application Zone, where the company featured live demonstrations and installations of its branding solutions (pictured, above).