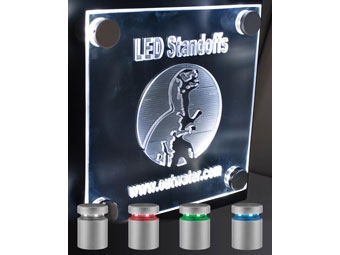 According to studies, consumer awareness and sales of products rise significantly when highlighted with an appropriate source of lighting, as opposed to similar presentation without being lit under otherwise equal conditions.
In response to numerous customer requests for the ability to illuminate their mounted graphics, posters, and promotional messages in color, Outwater now offers its extremely popular LED Standoffs for Signage and Displays with red, blue and green lighting options in conjunction with the white lit format in which its LED Standoffs were initially introduced.
Utilizing diminutive LED's that are integrated in between the body of the standoff and its screw on flat cap as a light source, Outwater's LED Standoffs use acrylic or Plexiglas sign holders to which they have been affixed as the medium to diffuse backlit illumination to the endorsed piece.
Great for use in stores, restaurants, museums, exhibit booths, as well as commercial and residential buildings, Outwater's LED Standoffs allow for an infinite number of interior display mounting options for a variety of different media including permanent and freestanding displays, signage, directories and art.
Easy to use, Outwater's 12V LED Standoffs simply plug into an available junction box via an included connecting cable and derive their power from an optional power supply that can run up to 10 LED Standoffs.
Outwater's low cost, energy efficient LED Standoffs consume merely .4 watts per unit, yet produce a 40 lumen, cool white output with an approximate 10,000 hour bulb life. Additionally, with a generous beam spread of 120° combined with a color temperature of 6,000-6,500K and a color rendering index of 70, Outwater's LED Standoffs feature even light dispersion to ensure that your promotional piece will be uniformly illuminated without any undesirable shadows or scalloping.
Available in polished and matte chrome, Outwater's aluminum LED Standoffs have a diameter and height of 1-inch and can accommodate panel materials up to ½-inch thick.
Outwater's LED Standoffs come complete with all necessary mounting hardware to readily bring your signage and display concepts to fruition.
Outwater can be contacted Toll Free at 1-800-631-8375 (For sales and product information in the USA & Canada) / 1-201-498-8750 (For sales and product information outside of the USA & Canada) or viewed online at www.outwater.com.