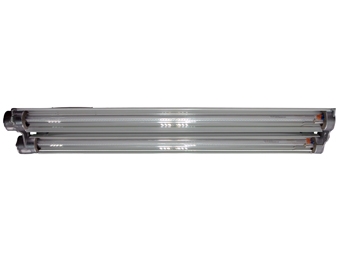 The EPL-48-2L-LED-G2 explosion proof LED light fixture from Larson Electronics is ideal for operators seeking top quality lighting that will reduce operating costs, improve lighting quality, and reduce downtime incurred from frequent servicing intervals. This popular four foot, two lamp Class 1 and Class 2 Division 1 light fixture is equipped with the company's new second-generation high-output LED lamps that have increased this hazardous location light's performance.
Equipped with Larson Electronics' specially designed LEDT-series second-generation bulbs, this fixture produces 7,000 lumens. These 28-watt LED lamps produce 125 lumens per watt and offer lower amp draw and increased reliability. The solid-state design of light emitting diodes provides a more reliable, stable, and energy efficient light source over traditional fluorescent lighting.
This fixture carries a T6 temperature rating and is approved for Class 1 Division 1 Groups C and D, Class 1 Division 2 Groups A, B, C, and D environments where flammable or combustible gases, vapors, dusts and fibers exist or stand the potential to exist.
This unit is universal voltage and operates on any voltage ranging from 120 to 277 volts AC.
These fixtures are standard surface-mounted via two swivel brackets. Each bracket is cinched to the bracket mounting peg on each side of the light. The bracket is mounted via a single bolt hole at the top of the bracket. Once the brackets are mounted to a surface, the fixture can be removed from the bracket by loosening the cap screws that hold the bracket to the mounting peg.
This fixture can also be delivered with a pendant mount option. Pendant mount fixtures hang from the ceiling and are suspended by rigid pipe. Each fixture has a 1/2-inch NPT junction box on one end and a 1/2-inch NPT-adjustable L-bracket on the other end. Operators bring down rigid pipe to the threaded mounting hub and wiring is fed down through the pipe to the junction box and tied into the fixture's lead wires, completing the electrical connection. The adjustable L-shape bracket provides support for the opposite end of the fixture.
"We have equipped this popular fixture with our second generation LED tube lamps which have increased this lights performance," said Rob Bresnahan with Larsonelectronics.com. "These high efficiency 28 watt lamps now produce 125 lumens per watt and offer a DLC listing."
To learn more, call 800/369-6671 (or 214/616-6180, international inquiries) or visit www.larsonelectronics.com.