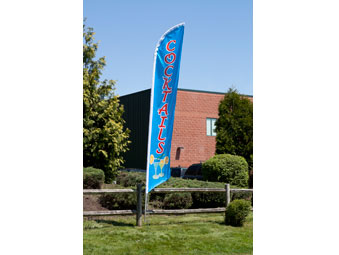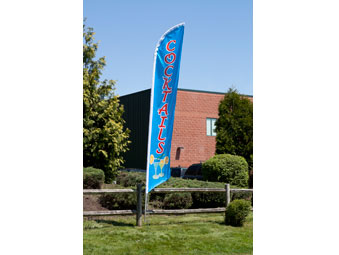 GiantPole.us recently announced a new stock message flag that features pre-printed text and graphics. The wind blade banner reads "cocktails," which makes it perfect for use outside of bars, restaurants, and popular nightspots. The brightly-colored red lettering stands out on the light blue background to catch the eyes of passersby. In addition, the display is both portable and reusable, so businesses are able to advertise at different vantages, like along main routes or near entrances, to increase traffic and sales. Each flag comes with a ground spike to make relocation easier for users.
"The cocktail message flag is a print-through model, which means the image on the back side is reversed," explains Sandra Reno, a member of the purchasing staff at GiantPole.us. "As a result, the impact of the banner is doubled, while the cost of manufacturing is significantly decreased."
The message flag stands at 14 feet high when fully assembled, so passing pedestrians and motorists are sure to get a good look. Each unit is pieced together from four 1-1/8-inch diameter aluminum pole segments much like that of a tent. The process of erecting the banner is simple and takes less than two minutes. The provided metal ground spike is ideal for securing the flag on softer surfaces, including sand, snow, and grass. This base enables the unit to withstand winds up to 40mph. In addition, the semi-transparent poly knit material is designed to avoid tearing and tattering, so the message flag will last for years to come.
"The metal design of the flagpole is yet another way in which the cost is reduced," continues Reno. "Many banners and swooper displays feature fiberglass construction and sell for more than $100, but this message flag retails for just over $50!"
GiantPole.us features a number of signage fixtures and visual merchandising tools that are ideal for every establishment. Online shoppers can choose from both indoor and outdoor display equipment, so any application can be accommodated. The inventory offers: 17-foot & 13-foot banner flags, teardrop displays, feather flags, street pole banners, popup signs, and more!