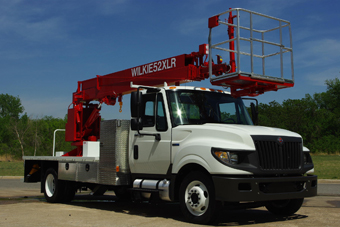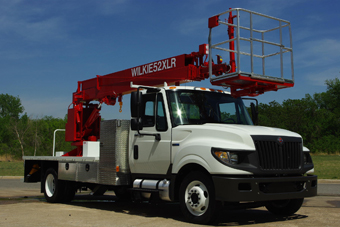 Wilkie Mfg., L.L.C. has added the Model 52XLR Remote Control Aerial Platform boom truck to its line of equipment.
The 52XLR is designed with a two-man hydraulic power leveling and rotating basket, with platform mounted winch and jib.
This unit also offers an optional main tube mounted winch, 110vac outlet, and additional options at the platform.
The 52XLR features a fifty-two-foot working reach and a forty-five-foot lift height. Hydraulics are powered off a truck engine PTO-driven pump.
The 52XLR can be mounted on a 19,500 GVWR truck (non-CDL) with approximately 4,000 pounds of additional load carry capacity.
This crane does not require a certified crane operator to run it.
Wilkie offers this unit with a variety of bed/body, lamp, and tool box and outrigger options.
For more information, call 405/235-0920 or visit www.wilkiemfg.com.