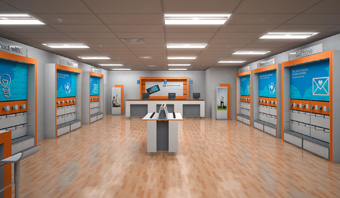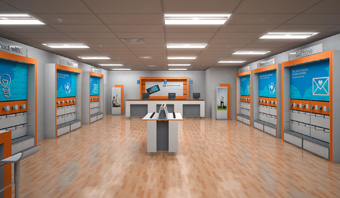 Walls + Forms, Inc., of Coppell, Texas, now offers a modular frame system that is a brand new concept in merchandising solutions. It is the first display system flexible enough to instantly react to market shifts of any kind. The displays can be modified quickly in appearance, color, arrangement, form, function, and even configuration. Most changes can be made without any tools and by untrained staff. The system allows for lightning fast reaction to new product developments, emerging technologies, or unforeseen market shifts. It is simple, flexible, and versatile.
The modular frame system was designed to incorporate a frame, display plates, and products. It enables easy concealment of cables and power outlets, simple front-loading access to power and wiring, and has a high load-bearing capacity.
This is an easy to assemble modular frame system offering simple to change configurations whereby you can add modules to walls in minutes and can change your store color by merely changing the display plates. It saves up to 60 percent of man-hours during installation and there are no complicated parts to worry about.
For more information, call the Walls + Forms sales team at 972/745-0800 or visit http://tinyurl.com/2dwu3bk.