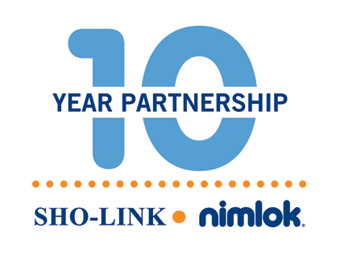 Nimlok, one of the world's premier providers of custom modular and portable tradeshow exhibits, is pleased to announce that 2012 marks its ten-year partnership with Sho-Link, a specialized service provider of installation and dismantling (I & D) labor to exhibitors in over sixty cities across the country.
Offering a professional, unique and singular field service advantage, Sho-Link's passion, integrity, and expertise in installing and dismantling Nimlok exhibits as well as their shared commitment to quality customer service have made them Nimlok's choice as exclusive partner for the past ten years. Clients in all areas of the industry—from tradeshows to museums to retail—have experienced that commitment first-hand.
"When Sho-Link first approached Nimlok about becoming a service partner, our service quality on the show floor level was very uneven and our clients deserved better," said Nimlok Company Principal Simon Perutz. "Over the last ten years, Sho-Link has delivered and today we have a very close and expanding working relationship. Our clients now receive high quality and consistent service from a trained and dedicated team."
John Yezeski of Nimlok Orange County/Solutions Rendered comments, "I am blown away by the dedication, flexibility, and customer service offered by Sho-Link, which allows us to not only deliver on our word to the client, but to exceed their expectations."
"We look forward to another decade of working together," said Perutz.
Jean Keefe, relationship manager for Sho-Link says, "The future is exciting, flourishing and vast. Nimlok and Sho-Link continually evaluate projects looking for opportunities, trends and implement our best practices to make our alliance stronger in this highly competitive industry."
As part of the celebration Nimlok and Sho-Link have created a specially designed joint Anniversary logo that will be prominently displayed at a number of planned events throughout the year (pictured).
Nimlok is a global leader in delivering face-to-face marketing experiences—including tradeshow exhibits, event environments and permanent solutions for branding spaces. Now in its fourth decade, Nimlok works via a network of 200 partners in 56 countries to provide strategy and execution in custom modular design, construction, installation, dismantling, and storage. For more information, visit www.nimlok.com.