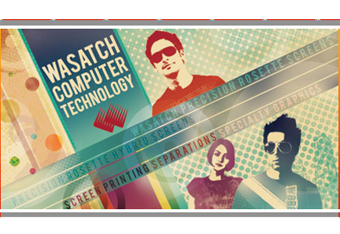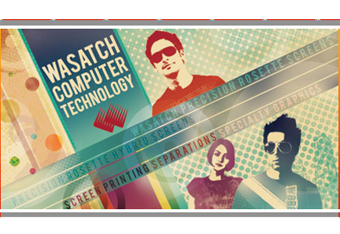 Wasatch SoftRIP 6.8 features a new Separations mode in SoftRIP SP that automatically detects the correct spot color and process separations to produce for incoming jobs; enhanced support for dye sublimation and textile printing; enhanced support of custom inksets for the most popular printers; improved handling of PDF files that involve transparency; a new Hindi user interface; and support for multiple new Chinese printers that have completed our quality assurance process.
New Separations Mode
Version 6.8 of Wasatch SoftRIP SP offers new power for the production of separation films and for direct-to-screen and direct-to-plate systems.
When operating in the new Separations mode, SoftRIP SP will automatically detect the correct separations to produce for incoming jobs, whether files are opened by a user in the RIP or printed directly from application software, with no user interaction.
If the job contains only two or three spot colors, only two or three separations will be produced. If the job contains a combination of process and spot colors, the appropriate number of separations will automatically be produced. Users can select from stochastic, rosette, and hybrid screening methods to customize a workflow for nearly any separations production process.
Press & Calibration Curves
Press Curves and Calibration Curves are now available in all editions of Wasatch SoftRIP 6.8, not just in the SP Edition, as was previously the case. This makes it much easier for users to construct color profiles for processes that suffer from extreme dot gain, such as dye sublimation and digital textile printing. It also helps maximize the benefit of our 16-bit rendering pipeline.
Enhanced Custom Inkset Support
This release improves support of custom inksets for most popular printers. One of SoftRIP's key tools for adapting inkjet printers for dye sublimation use is our custom inkset creator that allows users to configure SoftRIP with custom Hi-Fi inksets.
In past versions, users needed an instrument to help produce CIE XYZ data in the inkset creator window. For many configurations, this was an unnecessary obstacle because those numbers are only used for the screen display.
In Wasatch SoftRIP Version 6.8, the inkset creator allows users to enter colors quickly and easily with our color selector tool. This process is much more convenient for users who need to configure custom inksets.
Improved PDF Transparency Handling
Wasatch SoftRIP Version 6.8 includes dramatic improvements to the handling of PDF files that involve transparency. This update fixes the great majority of such problem files we have seen and supports the latest color and transparency rendering.
New Hindi User Interface
The company's new Hindi user interface expands the total number of user interface languages to twenty-seven, making Wasatch SoftRIP one of the most widely globalized software products available.
New Support for Chinese Printers
Wasatch SoftRIP Version 6.8 is the company's biggest release ever of new support for Chinese printers that have completed Wasatch's required quality assurance process. Version 6.8 includes support for products from Gongzheng, Micolor, A-Starjet, and Galaxy.
For more information, call 800/894-1544 and 801/575-8043 or visit www.wasatch.com.