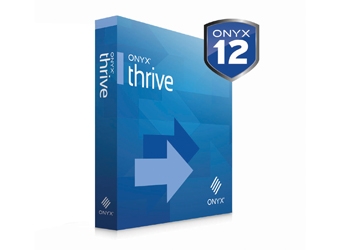 At the upcoming International Sign Expo in Orlando, Florida, April 21-23, visitors will be able to see the new ONYX Switch Configurator software, making its U.S. debut in the Onyx Graphics booth 1879. Show attendees will also be able to see how ONYX 12 software can make printing more predictable, giving print service providers confidence in the ability to print jobs right the first time.
New ONYX Switch Configurator
The ONYX Switch Configurator software improves turnaround times by enabling print service providers to easily customize a range of job settings. The configurator enables the creation of prints with the addition of bleeds as well as accurate placement of grommets and sewing marks. This allows print service providers a better way to manage communications and track their operations. ONYX Switch Configurator is for use with ONYX Thrive workflow software.
ONYX Thrive Drives Production
ONYX Thrive software offers print service providers accurate, high-quality, predictable output, while overcoming the challenge of unexpected results that can delay production and add cost. ONYX Thrive software offers scalability, giving print service providers the right tools to build ideal print workflows and obtain maximum efficiency to lower overall production costs. Along with predictability and performance, ONYX Thrive software improves the profitability of a shop by reducing the risk of misprints while improving production capacity and delivering jobs sooner.
About ONYX 12 Software
ONYX 12 software is the version core for ONYX Thrive workflow software, and ONYX ProductionHouse, ONYX PosterShop and ONYX RIPCenter RIP software packages.
In addition to the Onyx Graphics booth, visitors to the International Sign Expo will be able to see ONYX 12 software in action in numerous partner booths around the show, some of which include:
Canon Solutions America, Inc. (Booth #2011)
CET Color (Booth #2153)
Epson America, Inc. (Booth #2557)
HP (Booth #1971)
Vanguard Digital Printing Systems (Booth #2399)
OKI Data Americas (Booth #1171)
For more information about Onxy Graphics, Inc., visit www.onyxgfx.com.