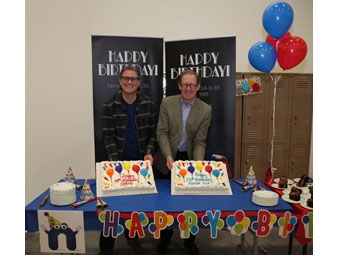 Orbus Exhibit & Display Group®, one of North America's leading trade suppliers of display, exhibit and event solutions is proud to announce that the company recently celebrated two milestone achievements, marking 15 years in business for Orbus and 35 years in business for Nimlok® in the USA.
The Orbus team celebrated with a birthday party held in the company's Woodridge, IL headquarters on Friday, April 1. Employees were invited to gather, take part in a provided luncheon and reminisce about the combined histories.
"We are thrilled to celebrate such occasions and are so very thankful to our loyal and dedicated customers, without whom none of this would be possible," said Giles Douglas, President and CEO of Orbus Exhibit & Display Group. "Cheers to many, many more."
Orbus Exhibit & Display Group was established in 2001 as part of the P3 Group, a worldwide group of 15 tradeshow and exhibit companies including Nimlok USA. Soon after establishment, Giles Douglas was brought on as President and CEO. Starting out as a small company focused on portable displays and graphics, Orbus quickly has grown to become the USA's largest wholesale, trade-only supplier of portable, custom and custom modular event, exhibit and display products and solutions. The company has expanded over the years to add Origin®, a fabric structure and architecture division, and SignPro Systems®, a wayfinding sign focused division. In 2010, Orbus merged with sister company Nimlok to expand even further into offering custom and custom modular exhibit solutions. In 1981, Nimlok opened its doors in the United States, in Chicago, IL, headed by Simon Perutz. Nimlok has also experienced solid growth and advancements, marking the company as a respected industry leader. In 2014, the company consolidated operations in Illinois and moved into a new manufacturing and distribution facility in Woodridge, IL.