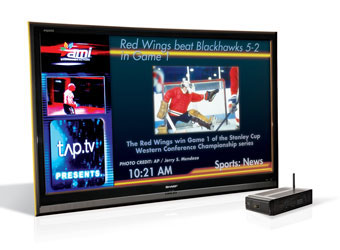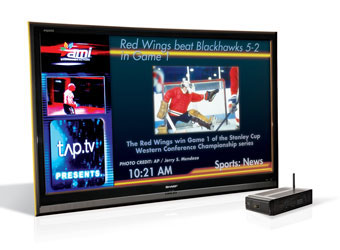 Ashley Bray
SBI introduces the second installment in a two-part series dedicated to signage options specifically for bars and restaurants. In the first half, we looked at window graphics and promotional products. Now, let's take a look at digital signage.
The Digital Age
One of the biggest developments in signage—and where you can stand to gain the most—is in digital signage. This dynamic platform allows bars and restaurants to entertain patrons, run house ads, and generate revenue all in one package. Partnering with a digital signage provider can allow you to offer this option to bars and restaurants.
One of the most immediate benefits of digital signage is a new appearance for your clients. "It gives the bar an updated look," says Chris Wilson, President of FLATalk Digital Inc. "An old bar can look slick if they've got a flat screen or a digital sign. It's a technology upgrade."
An eatery's atmosphere can receive an upgrade too. In addition to a variety of content and ads, bars and restaurants can run social media applications and games that allow patrons to interact with the screens in new ways.
And sign companies can step in and go beyond the sale by coaching establishments on the type of content they should display on their new systems. For one, owners should take advantage of their captive audience and get them to come back later in the week. "We all know it's easier to advertise to your existing clients at lower costs than it is to go out and advertise to prospective clients," says Wilson. "They're people that are already drinking; they've made it to the bar. It's important to tell them about other upcoming events at the bar."
While the benefits are obvious, there is still one deterrent—the price. Clients can often experience sticker shock when considering a digital signage purchase. However, digital signage often pays for itself over the long run as clients can change the content instantly— and for free.
Many digital signage companies also provide financing options. For example, many companies offer the choice to lease a system, which is an attractive option for establishments that would need both hardware and software. Systems also allow bars to generate additional revenue through third-party ads, which can help to offset the cost of a system.
One company, AMI Entertainment, offers its TAP.tv system for free to bars in the top 10 market. Featuring two versions, Pro and Light, the system is paid for by third-party advertisements that run on the screen (no competitive ads for other restaurants or bars are shown). However, users can also run custom-made house ads they create using high-definition templates.
TAP.tv also provides four feature channels of content: TAP X-Treme (high-action sports), TAP News, TAParazzi (entertainment and celebrity), and TAP Gameday. "The purpose is to have something that is relevant and engaging to watch when there's nothing else on TV," says David Borlo, Vice President of Strategic Initiatives at AMI Entertainment.
TAP TV Pro enables control of the hardware, as well, through a touchscreen. Owners can manage all of their TVs from this panel.
Fairfield Displays also offers a product that allows for easier control of digital signage. The Coda unit simplifies the organization of content and ads across a number of screens. "They can plug this unit in, work it off the Wi-Fi, and be able to manage their content," says Jennifer DiRocco, General Manger of Fairfield Displays and Lighting. "We can provide the screens to go with them, or they can work with anything that has a VGA input."
By controlling content, bars can be sure patrons are never bored. "This particular unit would allow you to go from your advertising content to C-SPAN's Web site and then go back to the advertising content," says DiRocco. "Units can be linked together. They are capable of a great deal of reporting so you know if you sell an ad to a company how many times it ran, when it ran, and you can schedule when you want it to run."
Take the time to look into alternative signage options for restaurants and bars in your area. It will not only benefit their business, but yours as well.
Photo courtesy of AMI Entertainment.