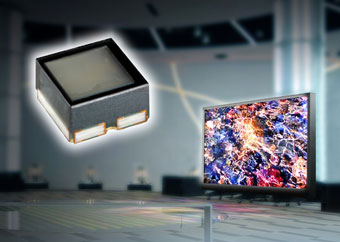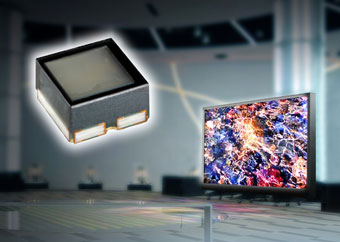 A new, high-performance 150-inch diagonal LED video display developed by
FormoLight Technologies
, Inc., provides high brightness and high contrast with sharp, vivid images for indoor and outdoor applications thanks to an LED solution from
OSRAM Opto Semiconductors
that utilizes its compact Multi ChipLEDs.
The RGB Multi ChipLEDs used in the FormoLight display are the smallest RGB LEDs currently on the market. Their compact size permits a special image format in LED video displays ranging in size from small to large screens. In this display, for interior use, the LEDs are not used as backlighting light sources that are hidden from viewers such as in LCDs; instead they are clearly visible on the surface of the display. However, they remain undetected by viewers because the Multi ChipLEDs are extremely small (1.6 mm x 1.6 mm and 0.9 mm thick) and virtually invisible through the black LED housing.
"Information has to be presented clearly in every respect. This concerns not only the concept of visualization, but also the technical reproduction. Excellent image quality is needed, which is easier to realize thanks to the advantages of LEDs, such as their directional characteristics and light quality," explains Sven Weber of OSRAM Opto Semiconductors. "The black LED housing reflects almost no ambient light, thus ensuring a perfectly flawless image."
The FormoLight display utilizes OSRAM's Multi ChipLED technology to deliver high brightness, rich colors, sharp contours and depth of field, displaying high-quality images with high contrast.
Ultra-wide vision: Convincing from every angle
Multi ChipLEDs produce a homogenous image from virtually any viewing angle. This homogeneity is based on two principles. The LEDs can be packed very closely together because of their compact size – the distance between pixels can be as little as 2mm. Also, the special casting material ensures a perfect color mix. The LEDs contain three chips (red, green, blue) manufactured using OSRAM's Thinfilm or ThinGaN technology, each of which can be controlled separately. The color impression is constant across the entire viewing angle and remains brilliant even when viewed from the side.
Thanks to the LEDs' sharp contrasts and high output, this high image quality is maintained even in high ambient light environments. The use of this technology is also worthwhile from an economic perspective, as LEDs are characterized by low power consumption and long life.