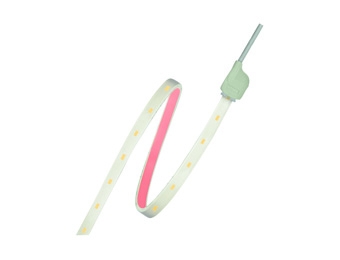 Lighting leader OSRAM SYLVANIA of OSRAM Americas, a group of OSRAM companies located in North and South America, will be showcasing a comprehensive portfolio of industry leading lighting products that span the entire lighting value chain at Booth #3108 at LIGHTFAIR® International (LFI®) 2014, the world's largest annual architectural and commercial lighting tradeshow and conference taking place June 3-5 in Las Vegas, Nevada.
OSRAM SYLVANIA has been supporting LFI since its inception twenty-five years ago, and is positioned to celebrate this milestone with a statement of fully integrated lighting products and services that take lighting designers, end users, luminaire manufacturers, and service providers beyond the boundaries of conventional lighting.
As an integrated lighting expert that is driving forward innovation, OSRAM SYLVANIA will be showcasing some of the company's latest developments in lighting technology, including a unique technology demonstration of a high efficacy LED tube that offers 215 lumens per watt (LPW) and holds the world record for system efficiency (205 LPW). This innovative and groundbreaking achievement delivers 3900 lumens yet only consumes 19W, combines high efficiency with high color rendering (90 CRI), and is able to be produced in a wide range of color temperatures from 3000K to 6500K.
Also in the spotlight will be OSRAM's ceramic remote phosphor conversion technology. This remote phosphor features high luminous intensities, outstanding luminance and efficiency, and superior heat management for exceptional optical performance.
The company will also feature a full breadth of solutions for a variety of applications including:
* The first to market OSRAM ProPoint® Raceway LED Tunnel Lighting System—the first linear LED lighting system for tunnel lighting that has an integral power supply, surge protection, fusing, and electrical connections within the raceway to simplify installation and maintenance;
* The enhanced, sleek, lighter weight SYLVANIA ULTRA Professional LED PAR Lamp Family that features a new lens design for improved field angle and beam characteristics that closely match halogen with high center beam candle power and soft edges;
* The industry-recognized OSRAM PrevaLED® Flex Linear (pictured)—a high-efficiency, flexible light engine for use in general lighting luminaires or creative luminaire designs with curved surfaces, long linear lengths, or unique dimensions; and
* The OSRAM RLD6—a six-inch recessed LED downlight assembled in the United States with a unique optical design that incorporates an upper reflector inside the mixing chamber that controls beam shaping and light distribution, while the depth of the trim provides 46-degree optical cutoff and eliminates annoying "flash" prevalent in other LED downlights.
These, and many other tailor-made lighting solutions, represent OSRAM SYLVANIA's expertise and dedication to provide energy-efficient lighting solutions of the quality customers have been accustomed to for over 100 years and can expect for the future.
Visitors to Booth #3108 can also expect to see that anything is possible as lighting becomes more intelligent and solid state lighting creates new opportunities for applications. The OSRAM DEBUT™, a dynamic LED lighting and media system, can turn a retail dressing room into a personalized, virtual-reality space. This new innovation simulates the lighting and environment of a variety of scenarios right inside the dressing room. Retail shoppers are able to make more informed decisions as the OSRAM DEBUT transports the outside world into the dressing room, moving light from an experience that is functional to one that is transformational.
"As the largest global, pure-lighting company, we believe that anything is possible and we are shaping the future of light," said Jes Munk Hansen, President and CEO, OSRAM SYLVANIA and, CEO, OSRAM Americas. "As we celebrate our support of twenty-five years at LIGHTFAIR International this year, our ground breaking innovations—including a world record holder—demonstrate how we are leading the industry with our new ways of thinking about lighting technology."
LIGHTFAIR attendees can learn from some of the leading industry experts from OSRAM about the trends and issues impacting their businesses and the future of lighting. LIGHTFAIR session topics featuring OSRAM experts include: legislation, regulations, and codes; a case study on how LEDs are transforming the healthcare environment; methods of measurement for LEDs; incorporating LEDs with solar energy at stadiums; and an update on light source and power supplies.
The breadth of innovations from the entire OSRAM family, including OSRAM, SYLVANIA, OSRAM Opto Semiconductors, Traxon Technologies and ENCELIUM®, will be at LIGHTFAIR International 2014.
For more information, visit www.osram-americas.com/lightfair.