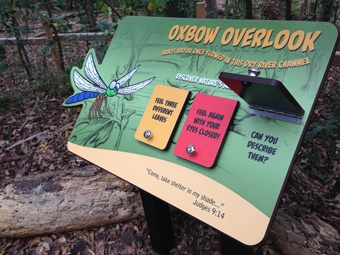 The versatility of post-and-panel signs has made them a mainstay of the sign industry, but there are still materials, styles, and applications that have proven most effective for this product over the years.
Material Meditations
Post-and-panel signs can be made of a variety of materials—wood, plastics, metals—but aluminum is the most commonly used because of the material's durability and flexibility.
"You can make things happen in aluminum with channels and provisions that could never happen in a piece of wood," says TJ VandenHeuvel, vice president of Market Development at aluminum extrusion provider SignComp.
Another popular material is durable custom high-pressure laminate (CHPL). Thicknesses of 1/2-inch or greater allow for concealed fasteners and a more streamlined look, which is important when the signs are being viewed up close.
When selecting a material, it's important to consider whether the sign will be outdoors or indoors. Most post-and-panel signs are found outdoors, so a durable material that can stand up to the elements is a must.
Materials can also be treated to survive outdoors.
"We use automotive grade paint and apply a UV-protective laminate to our solvent inkjet-printed graphics; both extend the longevity of sign performance," explains Bill Freeman, vice president of Architectural Sales at Howard Industries. "Also, depending on climate and location, a sign may require an additional protective clear coat. For instance, a sign located seaside is battered with saltwater-filled high winds."
Interior signs aren't exposed to the elements, but they still require a level of durability.
"With indoor, you can be a lot more flexible." says Grady Brown, president of iZone Imaging, a manufacturer and supplier of CHPL. "You can use less-durable materials, depending on how much public interface it's going to receive. The general public [can be] very destructive.
Apt Applications
For the most part, post-and-panels are generally used for outdoor applications.
"Post-and-panel sign systems are quite versatile and are commonly used for identification, directional, parking, and regulatory applications," says Freeman. "Many times, post-and-panel signage systems are designed to serve a dual purpose of providing navigational information as well as brand identity reinforcement."
Interpretive is another application that can be added to the list of uses.
"Interpretive is typically used to educate a user group—pedestrian in almost every case—in either history, environment, nature, animal life, or something of that nature," says Brown. "They are generally at a 30-degree or 45-degree angle down.
"They're angled back away from the reader so that someone in a wheelchair can easily read them as well as someone walking by."
Freeman sees interpretive signs growing in popularity.
"In order to increase the aesthetic appeal and attract viewers, these angled back interpretive signs are often embellished with custom panel shapes, eye-catching graphics, and vivid paint colors," he says. "Non-illuminated or internally LED-illuminated campus map signage is another prominent application of angled back post-and-panel signs."
Brown also sees many post-and-panels in parks and open spaces, although it's a market that few sign shops serve.
Design Decisions
The application of the post-and-panel sign usually dictates the design and style.
For example, due to the angle they stand at, interpretive signs are always one-sided, with visible fasteners often used on the back. "It's not so much about what the location is as much as the purpose or functionality of the sign," says Brown.
Sometimes that purpose can lead to a struggle between designing signs that stand out or blend in with their surroundings. This is especially true in parks.
"That's one of the biggest arguments in the parks and open spaces—am I here to enjoy nature, or am I here to be inundated with information and signs? It's a very gentle balance," says Brown, who notes that parks signage is typically done in browns, blacks, greens, and sometimes blues.
And yet, they are becoming much more brand-sensitive. "They spend more time on the content of what the sign is saying, showing, and conveying than the structure of it," says Brown.
On the structure side, anything is possible in terms of post-and-panel shapes, sizes, and content.
However, VandenHeuvel finds the traditional post shapes sell better than custom offerings. "The basis of all post-and-panels will always go back to the round and the square posts," he says. "You'd think that [custom shapes] would capture more designers' attention, but they'll still gravitate toward the rectangle, the radius, the circle, and the square as the core."
VandenHeuvel has seen sign makers aim to be as creative as possible on the panel of the sign, but he cautions to be careful that form doesn't overwhelm function.
"The post-and-panel is there for a purpose—to lead people," he says, "and they need to see this and have it relay the message as quickly as possible."
Brown agrees, "Understand the general principles of good wayfinding and legibility and apply those factors."
Modularity also plays a huge role in post-and-panel design.
"Any of the post-and-panel systems that we produce and supply to the market are intended to be modular systems so that the graphic component can be changed without removing the whole post and everything else," says Brown. "Most are bracket-mounted with exposed hardware on the back of the panel, strictly for single-sided applications.
"If they want a double-sided post-and-panel, then it goes to a slot configuration."
Budget also plays a role in the design and even the selection of materials. Often the client will choose a more expensive material for more visible post-and-panel sign systems and a cost-effective material for those not at the front of the house or campus.
"If it's a corporate, education, or healthcare environment, post-and-panels are going to end up being a very tertiary application," says Brown. "They save a little bit of money and don't spend it by doing high-design, high-end, custom-fabricated elements to identify the maintenance building, for example."
Budget can also dictate whether a post-and-panel has one or two posts.
"Obviously using one post is much less expensive," says VandenHeuvel. "They have to dig a hole in the ground for each one of those posts, so there's even additional costs every time you talk about a post going into the ground.
"But a single post can only hold so much, and when you start getting into your 90 mph winds calculations, you have to be careful."
Placement Points
The best design in the world will be for naught if your post-and-panel is not visible, so the right install spot is crucial.
"Visibility is key for signage placement; if a sign will be located near a roadway, consider traffic patterns and the rate of speed in which passing vehicles travel," says Freeman. "In general, post-and-panel sign orientation should be perpendicular to the roadway, in order to appear in drivers' lines of sight."
Lighting is also important since most post-and-panels are not illuminated.
"If it's expected to function at nighttime," says Brown, "look at ambient light sources and maybe locate that sign closer to a streetlight."
It's also important for a sign shop to be aware of regulations and zoning ordinances that may affect installation.
"Is your post-and-panel sign set back far enough to avoid plow damage? Is the panel or cabinet raised far enough from grade to clear snow buildup and/or ground foliage?" says Freeman. "And possibly most importantly, call local utility companies before you dig, in order to avoid colliding with buried utilities."
Interior post-and-panels aren't usually installed in the ground or the floor in interior applications.
"Once you get inside, these signs are wall-mounted and overhead-suspended," says Brown.
Whether outdoors or indoors, one thing is for certain—post-and-panels are an enduring form of signage.
By Ashley Bray
Photos (top to bottom): Howard Industries, iZone Imaging, SignComp.