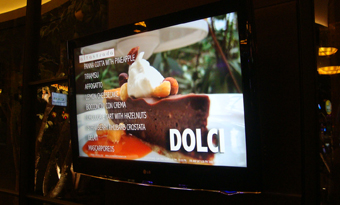 The
early purchase discount for
Digital Signage Expo's
Second Annual APEX & Content Awards Dinner
will expire after Friday, January 21
st
. Until then individual tickets can still be purchased online at
www.dse2011.com
at the early-registration price of $125.00, or $1,125.00 for a table of ten. After that date individual tickets will cost $150.00 and pricing per table will become $1,350.00.
The Annual DSE Apex Awards honor innovation in the development and deployment of technology in the global Digital Out-of-Home industry and are judged independently on the basis of the Challenge, the Solution, and the Result.
The Annual DSE Content Awards honor innovative and compelling content created for digital signage and digital out-of-home networks and are judged independently on the basis of Creative Relevancy, Production Quality, and the Intended Mission.
"We are very proud to provide the Awards Dinner to showcase the advances and originality of applications in our industry," said Chris Gibbs, president of Exponation, LLC, which produces Digital Signage Expo. "The Awards Dinner has become a memorable way for our industry to recognize and support those among us who set new standards for excellence."
DSE 2011 marks the seventh year that The APEX Awards will recognize the most innovative digital signage installations in the world. The Awards Dinner will be held on Wednesday, February 23 at the Paris Hotel Las Vegas from 7:00-9:00pm. To purchase tickets online or adjust your existing reservation to include the Awards Dinner, click here.
Mark your calendars now: Digital Signage Expo® 2011, co-located with the Interactive Technology Expo, Out-of-Home Network Show, and Digital Content Show, is scheduled for Feb. 22-25, 2011, at the Las Vegas Convention Center in Las Vegas. To reserve exhibit space or to attend, contact Chris Gibbs, (770) 649-0300 Ext 17. Or, for more information, visit www.digitalsignageexpo.net. You can follow DSE on Twitter at DSExpo, or for all DSE 2011 updates, use #dse2011.