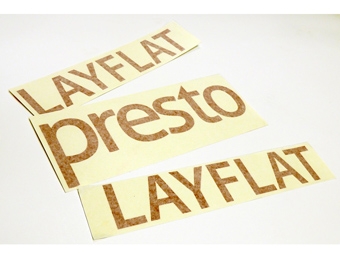 Presto Tape will be showcasing application tape at the SGIA Expo 2015. Presto Tape manufactures paper and film application tapes for the sign industry.
Presto Tape's Layflat paper is available in standard and premium paper. The Layflat application tape allows easy transport and prevents edge curling and tunneling. All of Presto's paper application tapes tear cleanly with no stringy adhesive, no adhesive build-up, or adhesive balls.
Presto's Easy Tear Film is one of a kind and this film application tape is the workhorse of the film line. Its unique design allows you to easily tear the transparent film and works well in most sign shop applications. This film application tape works well with textured and matte vinyls that can be hard to find a suitable application tape.
Presto's newest tape of the line is Pallet Tape. Presto's Pallet Tape is used in screen printing to extend the life of pallets and reduce downtime for pallet cleanup. The self-adhesive tape adheres to the pallets and can be easily removed when done printing.
Presto Tape offers competitive pricing on Application Tape and Pallet Tape. Visit Presto Tape in booth #4946 for demonstrations on how well the tapes work.
Presto Tape is a completely integrated manufacturer of premium quality application tapes, digitally printable wallcoverings, specialty tapes, and surface protection film located in Bensalem, Pennsylvania.