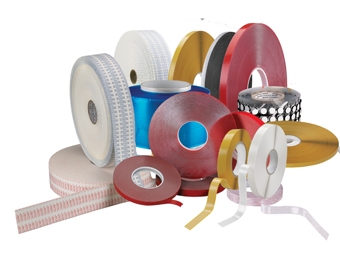 Essentra Specialty Tapes will display its extensive line of specialty tape products at two premier industry events this Fall: the Shopper Marketing Conference and Expo in Minneapolis, October 13 to 15, and also the upcoming SGIA (Specialty Graphic Imaging Association) Expo in Atlanta, November 4 to 6. The company will also be introducing several new products at the SGIA Expo.
Essentra Specialty Tapes plans to highlight its core products at these key industry events, including the following unique tape product lines. Free tape samples will be available for all booth visitors.
Twin Stick®: These double-sided foam tapes feature a permanent adhesive on both sides; they are available in many sizes—in pieces and diameters (coins).
Remo One/Two®: The Remo One family of double-sided foam tapes has a permanent adhesive on one side and a removable adhesive on the other. Remo Two tapes provide a removable adhesive on both sides. These are available in many sizes—in pieces, diameters (coins), or rolls.
Dubl Kote®: This line of double sided foam tapes is ideal for flexible and conformable requirements, such as joining irregular surfaces and can be used on many types of surfaces. It features a permanent adhesive with a strong bond on both sides. Dubl Kote tapes are available in rolls in a variety of sizes; an acrylic version is also offered.
Finger Lift Tapes: These user-friendly tapes feature a release liner with a dry edge on each side of the tape. The liner extends beyond the width of the adhesive strip, allowing the liner to be removed more quickly and easily. Other tapes with flush-edge liners, where the liner and adhesive are the same width, are not as easy to use. This finger lift tape feature is offered in the Essentra tissue, transfer, film, and bag sealing tape families.
In addition, a new high-speed hot melt coater was recently installed by Essentra for manufacturing finger lift tapes in their Forest Park, Illinois facility. The addition of the new state-of-the-art hot melt adhesive coating line allows Essentra to provide the service and quality needed to meet the fast-paced demands of the consumer goods industry. As a result, they now offer 300 standard sizes in stock, available to ship the same day, and the potential for custom solutions with a quick turnaround time.
More information about these products will be available at Essentra's Booth 212 at the Shopper Marketing Conference and Expo, and at Booth 1237 at the SGIA Expo.
The 2015 Shopper Marketing Conference and Expo will be held October 13-15, 2015, at the Minneapolis Convention Center. It will feature the latest in media technologies, packaging and displays for the in-store and shopper marketing field. Attendees from the consumer goods and services industry include brand manufacturing teams, retail executives, ad agency professionals and other solution providers. The event includes symposiums, keynote speakers, seminars, a design gallery, and complete exhibition. For more information, visit http://www.shoppermarketexpo.com/.
The SGIA Expo will be held November 4-6, 2015, at the Georgia World Congress Center in Atlanta. Leading imaging professionals will showcase their best products, methodologies and innovative applications for the specialty printing and imaging industry, including areas such as digital inkjet, wide format, garment decoration, screen printing, finishing and much more. This event includes educational presentations, community receptions, an exhibition and an industry award competition. Attendees will include business, production and sales managers from a variety of leading printers seeking to buy products, new equipment or services. For more information, visit www.sgia.org/expo/2015.
For information about Essentra Specialty Tapes and its products, visit www.essentraspecialtytapes.com and www.essentraspecialtytapes.com/Finger-Lift-Tapes.