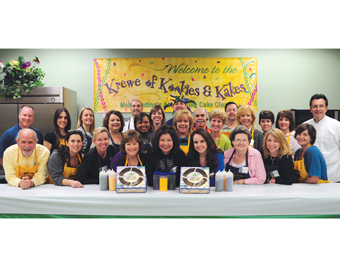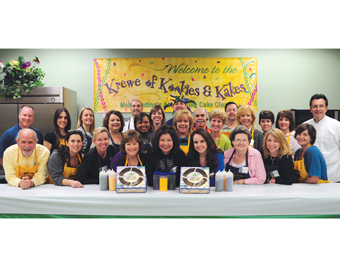 When Mele Printing, a New Orleans-based commercial printer and Kodak customer, set its sights on generating new business growth, the company decided to develop a customer open house that was unlike any other. "Mele Printing's Krewe of Kookies and Kakes" is an annual event that utilizes the company's unique on-site bakery and features both a baking class and a complete print shop tour. Mele Printing cleverly showcases its extensive printing capabilities as delicious Louisiana-style king cakes bake in the oven. The combination of both local traditions and live printing demos has helped Mele Printing reach new markets and stand out among its competition.
"We're in the people business. We want to let people know who we are, how we work and what we can really do for their business through our printing services," said Mallery Mele, president and owner of Mele Printing. "This is a fun event that helps increase the likelihood of them coming to us for their print needs. At the end of the day, they leave with a freshly-baked king cake and a number of high-quality collateral materials they saw printed right in front of them.
"It's an experience that carries on. They eat the cake at home and hang the posters at work; Mele Printing always stays on their mind."
This past January marked the tenth year for the popular event. Inspired by his brother-in-law, a local professional baker, Mallery Mele came up with the event to bring in potential customers. This year, the classes included over 150 people from 40 different corporations. More than 80 percent of those attendees were visiting Mele Printing for the first time.
"The first year we held the event we started out with just one baking class and shop tour, inviting a small group of potential customers. Once we did one class though, we realized we just had to let everyone do it because it's so much fun," said Mele. "The next year we expanded to three classes, then five classes, and one year we even held ten classes.
"For 2013, we decided to do seven classes on seven consecutive days leading up to Mardi Gras. It's evolved into a combination of both our current customers and new business contacts."
Mele notes that the company invites anyone who may be thinking about doing business with them, and that the class reservations fill up well in advance. The guest list includes marketing professionals, CEOs, insurance companies, manufacturers, municipalities, and even print groups.
According to Mele, it's not your typical baking class. Every step is timed out perfectly to ensure that both the cakes and print jobs are completed between 10 a.m. and 1 p.m.
Attendees start by posing for a group photo that is later used in the product demos. Then they proceed to the bakery to create their dough from scratch, even following through with the Mardi Gras' tradition of including a plastic baby inside the cake. While the dough bakes, attendees head off to the print shop where they witness firsthand how Mele Printing produces a number of print applications utilizing their entire equipment portfolio.
After lunch, attendees return to the bakery to finish decorating their king cakes with glazed topping and colored sugar. Mele completes the day with a demonstration of the KODAK INSITE Prepress Portal System in the bakery, showing how easily his clients can access and manage prepress workflow anytime and anywhere via the web.
"The best part of it all is that customers are really blown away during the shop tour. It's called 'wow' printing for a reason. I always get 'wows' as we walk around the shop and they see the process in action," said Mele. "The tour is completely built on speed. We've invested heavily in the most state-of-the-art technology, and tours are one of the most significant things we can do for our own business."
The shop tour starts when Mele seamlessly drops the group photo into KODAK PRINERGY Workflow, which the company uses to streamline their production process. The photo is routed to each press in the shop for different demonstrations. No matter the press, KODAK PRINERGY Workflow is the system of choice for powerful file preflighting, color management, trapping and imposition. It offers impressive flexible device connectivity, customizable automation and database-driven production management. Mele refers to PRINERGY Workflow as the foundation of both his shop tour and his operation.
The first print demonstration on the tour is on a KODAK NEXPRESS SE3600 Digital Production Color Press using clear protective coating from the award-winning KODAK NEXPRESS Fifth Imaging Unit Solutions. The NEXPRESS Platform supports more than 800 standard substrates, and Mele Printing utilizes the NEXPRESS Press 26-inch-long sheet option to accommodate the larger-sized print jobs they receive. With the Fifth Imaging Unit Solutions, commercial printers are able to differentiate customer applications through watermarking, color gamut expansion, gold effects, unique in-line dimensional printing, high-quality gloss, and clear protective coating—all in a single pass.
Other tour demonstrations include a print application created on a KODAK DIGIMASTER EX150 Digital Production System. This demo is designed to emphasize how quickly Mele Printing can achieve high-value, high-volume applications within quick turnarounds. The tour also highlights the use of KODAK SWORD Thermal Plates, which Mele Printing relies on for all of their offset print jobs.
The tour demonstrations help to illustrate the extensive printing capabilities of Mele Printing. Attendees are given the photos, posters, and certificates printed live during the tour to show the quality of each press. In conjunction with Mardi Gras, Mele Printing also experiences an interesting phenomenon every January—an influx of business. Mele credits that to the fact that attendees love to see their own applications being produced live in front of them.
"Our customers love to walk around and point out their own print jobs to the other attendees. They appreciate seeing what we do for them and they're really proud of how they're utilizing our capabilities," said Mele. "The best part is that the attendees of 'Krewe of Kookies and Kakes' learn all about the different departments we have. If they are a digital customer, they realize we can do statement printing. If they're a statement printing customer, they realize we can do fulfillment. Our customers' confidence levels increase as soon as they see all we can accomplish."
For more information, visit graphics.kodak.com.