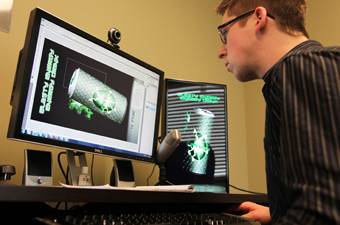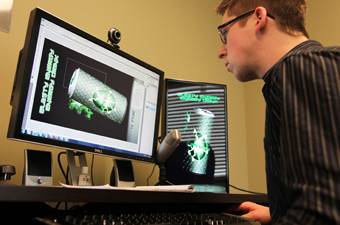 By Mike Antoniak
Most sign shops build their profits by successfully selling their capabilities: the know-how and hardware to provide clients with durable, attention-grabbing signs, banners, posters, and graphics, as needed.
As these solutions providers court opportunities in the expanding market for digital electronic signage, however, they find it's the capabilities of the sign systems themselves that are opening clients' eyes and closing deals.
"With these signs you can communicate with people in ways that are clear, concise, and relevant to whatever they're doing at that particular moment," says Jeff Porter, executive vice president at digital signage solutions provider Scala.
"Digital signage is all about context and how well it provides useful information," adds Jeff Collard, president of digital signage software supplier Omnivex. "Without good content, [these] systems are just another form of wallpaper."
Content is Key
For digital signage, content is the determining factor in the benefits and rewards of a system. But what makes for effective content is determined entirely on the installation; different settings require different strategies in content development, rotation, and management.
The demand for content to drive the signage can bring lucrative long-term opportunities for sign specialists who want that business. There are two business models, according to industry consultant Lyle Bunn: (1.) Sell turnkey systems with tools for clients to develop and manage their content, or (2.) sell the signage and develop a new revenue stream in content development and management services.
"Sign shop owners already understand how an organization communicates and have a customer base that needs these services," Bunn says. "Adding dynamic digital signage can allow them to protect their existing client base, while also prospect for new business."
It's an endeavor that can develop into a new profit center, according to Charles Kelly, Jr., president of wholesale sign systems manufacturer and distributor Clarke Systems. "Getting involved with digital signage allows the shop to offer customers complete and ongoing communications packages…[and] sets up ongoing marketing relations with the customer through program development and content management," he states.

Some Guiding Principles
Concerning content, a few general rules apply to all installations (indoors and out). "[For instance], it takes about one-inch of text to be seen for every ten to twenty feet a viewer will be standing from the display," begins Bunn.
Programmers must also consider dwell time (the period the target customer spends before the sign, measured in seconds or minutes) and the playlist (the mix of content playing in a loop). The successful combination of the two depends on the installation. For example, a display panel set up near the elevators in a building lobby might include a succession of messages or information only fifteen segments each; but for those waiting in line at an amusement park attraction, longer segments and a mix of entertaining clips (as well as video highlights of other rides in the park) is better.
The length of each segment can determine the overall impact. Present viewers with too many messages in too rapid a rotation and they'll miss them all. Play the same short loop over and over for people in the sign's vicinity for a protracted period and they'll tune out.
Poor graphics leave a poor impression, so take full advantage of the high-resolution capabilities of LCD display panels, advises Collard. "You need to look at this type of signage as a means of informing or entertaining, as well as grabbing their attention," he says.
"You've got to have motion for these signs to do their work," notes Porter. "Our eyes are naturally drawn to motion. But that doesn't necessarily mean you have to use video."
As a possibility, Porter suggests something as simple as a picture and text moving around the screen or a transition or fade between segments. "The content just has to be clear, concise, and relevant," he explains.
Kelly agrees. "A person shopping for clothing or electronics might be happy to see a promotion for an item in a retail setting but couldn't care less if she or he is rushing to catch a train or looking for directions to an office," he comments.
Developing that content and designing and deploying the appropriate digital signage solution entails conferring with clients about their business and requirements. Communications challenges, goals, and the customer/viewer experience at their locations should all figure in content strategy, whether developed and managed by the sign provider or end-user.
"Until you know what your customer wants to accomplish, you can't begin to provide the solution," says Kelly. He suggests asking customers: Who is their target audience? What is the goal? When is the target audience around? Where are the best locations on-site for optimum visibility? How will they judge the effectiveness? And who will actually develop and manage content?
Getting Involved
"Sign shops already have an advantage going after this business, as they already have an understanding of their clients' business and goals," says Porter. "Now they can offer a more flexible platform for driving their messages."
Another plus: the range of solutions that now make it easy to develop and manage content remotely, whether it's destined for a counter-top or a network of display panels. Whether you want to provide that service or merely sell and install systems, opportunities are developing in every market segment.
Retail. These systems are proving to be effective sales aids for promoting in-store events, specials, or specific items. "Digital signage can give a sales lift for a featured product, as much as 17 to 24 percent," states Collard.
The same system can introduce a new product, highlight key features, or alert shoppers to a great deal. Content should be brief and timed to speak to shoppers for only as long as they're in that department or store. However when a brief video isn't warranted, moving graphics or photos can draw shoppers' eyes to a concise text message.
Waiting rooms, lines, and service areas. Wait time is often down time for consumers, feeding a sense of frustration. A rolling mix of information, entertainment, and sales pitches keeps their minds occupied so they lose track of the wait. "The number of and length of spots should relate to how long the average person will be looking at that sign," advises Bunn. This might mean a looping ten-minute playlist in a bank lobby, but as much as half an hour in an auto service center.
Whatever the setting, content should speak to why they're there and what they're doing. In a movie lobby, movie trailers might alternate with reminders of what's available at the refreshment counter. At a bank, the focus could highlight the range of financial services and investment programs available through that institution. "If a bank can get a customer it already has interested in just one more account or service, that's a major win," says Porter.
Restaurants and fast food. Restaurant menus change throughout the day. "With these systems, you can feature the current menu, provide nutrition information, and promote a specific item," says Collard.
In a fast food outlet, high-resolution images can be used to encourage impulse buys of current offerings. In a more formal restaurant lobby, the rotation can highlight the day's specials, promote upcoming offers, and include paid ads for other area businesses.
The ability to easily add or delete content can drive sales in sports arenas. "As the event winds down, prepared content can remind patrons of a pending cutoff of beer sales or announce deep discounts on an item that hasn't sold to expectations," suggests Collard.

In transit. Travelers have distinct, immediate concerns, and the flexibility of a digital sign system allows for content to address them. Consider airport shuttle buses. Travelers heading to the airport are most concerned with making their flights. The system can display the latest information on schedules and departures, traffic, weather—anything impacting their plans.
Passengers in those same shuttles traveling from the airport see a different mix—information about services available at their hotel, restaurants, or other attractions in the area.
"Whatever that person needs to know, with a digital sign system, there's a way to provide it," states Porter.