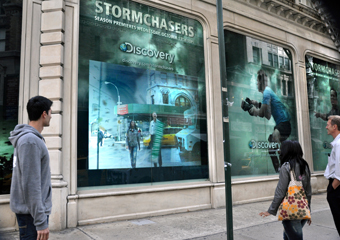 From retail venues to transportation to colleges, digital display technology—with its ability to quickly distribute and change content at high-resolution visibility—continues to transform the definition of modern-day signage. In fact, it appears that many of these types of signs are even plugging into the attraction of instant interactivity with viewers.
This month, we're traveling around the digital sign industry and touring some of the latest announcements and installations of interest in this field. This section is designed to not only allow you to see where these types of signs are being utilized, but we also want to use this round-up to present a glimpse of why end-users are selecting these displays. Hopefully these reasons will, in turn, help you better understand the many different methods you can use to sell, install, or manage these systems.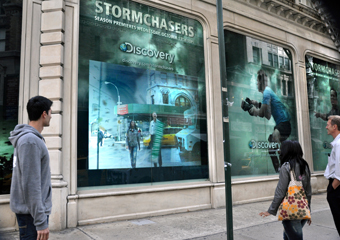 Urban Tornado Puts Pedestrians in the Path of a Twister
Last fall, Inwindow Outdoor, a leader and originator of interactive storefront and mall advertising, launched the "Urban Tornado" digital signage display system at two of its premier Storescape locations in New York City to promote the Discovery Channel series Storm Chasers.
As a pedestrian approached the storefront screen, they could see the image and hear the sounds of an approaching tornado coming up the street behind them. One location even featured high-powered fans blowing gale-force winds on passers-by to enhance the experience. As the on-screen tornado approached the user with speed and ferocity, virtual debris flew through the air, even sending a stop sign crashing through the storefront window. Once complete, the pedestrian could then opt to receive a photograph of themselves via SMS, as well as have the option of uploading said image to their personal Facebook™ page, as well as the official Storm Chasers Facebook fan page.
"The most effective outdoor advertisements are the ones that not only attract attention but engage a person on the street in an exciting way," said Inwindow Outdoor CEO Steve Birnhak. "Leveraging the resources of our digital production team, we created a unique experience that was sure to drive awareness of the new season of Storm Chasers."
Inwindow Outdoor created the campaign, which ran through November 9, on behalf of the Discovery Channel and in conjunction with agency PHD and outdoor buying group OMA.
City College Installs Freeform Marquee Displays
The campuses of Long Beach City College (LBCC) in Long Beach, California are now attracting more attention thanks to new marquee video and messaging displays designed, manufactured, and installed by Daktronics Inc.
"We live in a world where communication is the key," said Chi-Chung Keung, Executive Director of Public Affairs and Marketing for LBCC. "These new Daktronics marquee displays will enhance our ability to effectively and attractively communicate with our students, faculty, staff, and community."
One marquee, located on the Pacific Coast Campus, is uniquely designed; it features the LBCC logo above a curved eight-foot-tall-by-seven-foot-wide LED video display made up of ProPixel® freeform LED sticks. Designed to be incorporated into a structure of any size or shape with video, animation, color effects, text messages, and live data, the ProPixel® LED elements use ultra-bright LEDs to transform structures into vibrant displays.
A second marquee on the Liberal Arts Campus of LBCC features a two-sided five-foot-high-by-almost-nine-foot-wide Daktronics video display that, with pixels spaced 16mm apart, is able to show recorded video, animations, graphics, text, and announcements.
"These freeform video elements allow flexibility and creativity with the marquee," said Marlo Jones, sales representative at Daktronics.
Reno Casino Adds Sports Tickers to its Lineup
The Peppermill Casino's Race & Sports Book in Reno, Nevada now includes state-of-the-art display technologies, including Trans-Lux Sports Multi-Color Tickers. And for patron convenience, the immediately adjacent Sports Bar and Sports Deli, as well as the Poker Room, now feature Trans-Lux Sports Tickers to keep guests informed with up-to-the-minute sports data in a steady stream.
"The Peppermill Casino is an award-winning gaming facility that excels by providing its patrons with high-tech services," said J.M. Allain, president & CEO of Trans-Lux Corporation. "Our sports tickers deliver on that service and help keep the casino sharp in a highly competitive industry."
Electronic LED DataWall® technology from Trans-Lux is used in many casinos to display real-time information and is perfect for posting odds, game schedules, results, or other applications where text information changes frequently, is centrally controlled, and is viewed continuously by patrons.
The Peppermill Reno has four sister properties in Sparks and West Wendover, Nevada. All five casinos have the same configuration of electronic LED DataWalls®, which allows them to control all the data from one central location. If there's a change in the odds, all of the properties change at the same time.
The Multi-Color Sports Tickers installed at the Peppermill Reno display a continuous flow of sports information 24/7. A data feed provides information directly to the display in a "graphical electronic ticker" format. The patrons love it because the ticker displays team logos and updated scores; the team that's winning is shown in green and the losing team in red. The data feed also allows for the insertion of ads, promotions, upcoming events, etc., in a variety of colors and type fonts.
Integrating Multiple Products into One Unique Experience
In partnership with Send A Message, Inc., and Fujifilm's "See Here," Omnivex Corporation is providing the software platform for the touch screen interface and backbone management of photo kiosks located in hotels and at tourist attractions.
The multi-purpose Send A Message (SAM) digital media kiosk is located at hospitality properties and allows users to quickly upload photos from their digital cameras, create customized postcards, and print them on high-quality photo paper. In addition, they can directly access Fujifilm's "See Here" photo Web site for uploading their pictures for online storage or creating photo gifts that can be ordered directly from the kiosk.
Revenue is generated from the kiosk through the sale of on-screen ad space and by charging users a fee for creating their customized postcards. All of the functionality of the kiosk can be managed remotely through Omnivex digital signage software. Fujifilm North America installs and maintains these units for Send A Message, Inc.
The system has recently been deployed at the Philadelphia Marriott Downtown and the Renaissance Orlando at Sea World. Omnivex value-added reseller Digisplay, LLC brought all of the different aspects of the project together to combine the strengths of each of the companies involved into one unified solution. "Omnivex software allowed us to incorporate advertising space, along with a touch screen interface and the ability to print the postcards," said Jim McNeal, president of Digisplay, LLC.
Driving Home Digital Signage
Flagship Toyota dealer Camelback Toyota in Phoenix, Arizona just built a 62,000-square-foot showroom alongside a 65,000 square-foot service facility, but it's its state-of–the-art digital signage network from Unified Brand and Scala that's making the biggest impression on its customers.
The new facility is equipped with high-end amenities, including free Wi-Fi, a café, a high-tech media room, a kids' play area, and a massage area with in-chair TVs. Accordingly Camelback did an in-depth search to find a sophisticated digital signage network that would be able to match all of its other five-star improvements.
The quest for the right vendor led Camelback Toyota to full-service media agency Unified Brand, which developed a digital network that offers custom content and a high-end brand experience. Using Scala 5 Content Manager and Player software, Camelback Toyota runs rotating images of famous people, motivational quotes, and custom-written "thoughts of the day" to motivate and entertain customers and employees.
The new digital signage system includes: seven unique channels playing a mix of custom high-definition content and real-time news; forty-five Samsung HD screens scattered throughout the showroom, lounge, four-bay service area, café, new car delivery area, and parts and accessories department; two jumbo HDTVs mounted on a column twenty-five feet in the air; custom-built PCs; Control 4 Systems to change channels and switch to live TV; and a library of dealership-specific content.
In addition, a movie theater-sized, high-definition projector screen dominates one wall of the dealership, giving the lobby the look and feel of a grand hotel. New financing deals, car accessory upgrades, service discounts, manufacturer's specials, and other promotions constantly rotate on the network of screens to up-sell customers while still providing entertainment.
Scala and Unified Brand also developed custom messages for individual customers who purchase a new Toyota. "Customers wait for their new cars to come out to them in the delivery garage area, which is decked out with more networked flat screens," said Mike Spector, Facilities and Inventory director at Camelback. "On each, we stream messages directly to the proud new car owners that say 'Congratulations [Bob and Mary Smith] on the purchase of your new 2011 Toyota Prius,' for example. Customers absolutely love being recognized like this."
Camelback Toyota utilizes the Scala system to run an ad in Unified Brand's local community network of signs (an ad-based network), helping to draw new customers to the dealership. "We host Camelback Toyota's Content Manager and Players and use custom Scala solutions to create, manage, and distribute their content to the end-user site," says Pete Doolittle, president at United Brand.
Camelback Toyota is finding once customers see the new showroom, they come back. "I believe that customers are enamored by this facility and the digital technology in particular. The entertaining environment makes any kind of service or sales wait more palatable to customers, so they leave our dealership with a positive feeling," said Kim McKay, customer relations manager at Camelback.