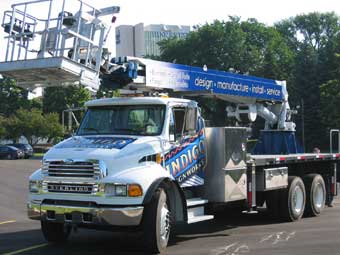 A service truck can be one of the biggest investments a sign shop makes, so it's important that, in turn, the truck makes the shop a good profit.
There are a variety of ways to ensure this is the case.
First a company needs to choose the right service vehicle. This means buying rugged equipment that's built to last, as well as choosing equipment that has enough height and side reach to work on a wide range of jobs.
Buying something specifically engineered for the sign industry makes a difference too. "If you get something that's not designed for the sign business per se, you may lose out on some of the features and functionality that helps you be more productive and get jobs done quicker," says David Phillips, Global Business Development manager at Elliott Equipment Company. "If you get the right vehicle, you will be able to do more work, simply by quicker setup, more tools available in the platform, more uptime, and greater resale value."
That greater resale value is often overlooked, but it's a big part of a vehicle's ROI.
"When you're ready to trade up to something new or to move it out of your fleet, [make sure] you have it spec'ed out and laid out in a way that is in high demand by the industry," says Phillips.
The way a shop lays out a truck is also important for how efficiently workers operate. "Look exactly at what the workers do on a daily basis [at] these jobs and try to spec the trucks and aerial devices out in a way that maximizes their access to the tools they need and to the space they need to do the job," says Phillips.
Shops should also look at what tools they use and equip their trucks with 110-volt plug-ins for hand tools.
Storage space is also very important. Most shops fill them with toolboxes from one end to the other and above and below the body of the truck.
"When they equip the machines, they order them very custom," says Randy Robertson, director of Sales & Marketing at Manitex. "They want that piece of equipment to be more or less a multi-tool."
Many even include specialty toolboxes like ten-foot-long lamp bins for carrying lighting, since channel letters are a big part of most shops' business.
Bryan Wilkerson, vice president at Wilkie Manufacturing L.L.C., has some tips on loading the truck right for these jobs.
"Planning can be a big part of a channel letter job and cheap moving blankets can go a long way in protecting the channel letters," he says. "Also the last letter loaded on the truck should be the first letter off the truck."
Some trucks, like Elliott's, even include jib winches, which can retrieve letters and hold them in the air during install to make channel letter jobs easier.
"Previously a lot of companies had to bring two vehicles on the job," says Phillips. "They'd have to bring a small crane and a little bucket.
"But with this jib winch, they're able to do the lifting and the personnel access work with one machine."
Of course, the right tools and hardware aren't everything. Carrying the right supplies to accomplish channel letter jobs and beyond is crucial too.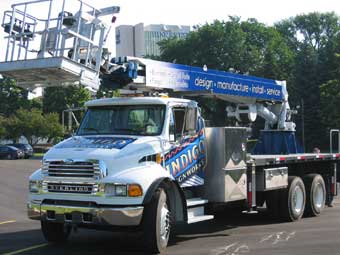 "Keeping a running inventory of what is on each truck before it leaves the shop—along with a good parts list for items required for each job—will pay for itself in saved time on returned trips," says Wilkerson.
With all of the materials and tools on the truck, vehicle owners need to be aware of weight restrictions (33,000 pounds for service trucks). These costly fines can cut into profits.
"We really recommend that they go through the truck every couple of months or so, clean it out completely, and see what they're not using and what they are using and refill their boxes so they don't overload these trucks," says Phillips.
There are also ways to reduce weight when building the truck—such as alternatives to steel toolboxes.
"A lot of our clients are using aluminum boxes or fiberglass boxes or different things like that to bring weight down and increase what they can carry," says Phillips.
Aside from building a truck for efficiency, a shop should also consider the branding value of its appearance. "[Service vehicles] are basically a rolling advertisement," says Phillips. "They get a lot of return on investment if they build a truck that has some high promotional value."
Ways to "bling out" a truck, as Robertson says, include vinyl wraps, custom paint jobs, and lots of shiny chrome and aluminum.
"Those guys are very attuned to developing and tailoring artwork, graphics, and signage for their clients, so they're the same way when it's time for them to buy equipment of their own," he says. "They want it to be different than anything else out there."
Above all else, a shop's contact information should be clearly displayed.
"If you cannot read it from thirty feet away, people are missing your advertisement on the truck," says Wilkerson, adding that trucks should be regularly cleaned.
Keeping a truck looking good is as important as keeping it running well.
To avoid costly repairs that can take a truck off the road, shops should complete the recommended daily, weekly, and monthly checklists for the vehicle. Some problem areas to look out for include extension cables, clutches on manual transmissions, and wear and tear on hinge and cylinder pins.
In addition to routine maintenance and inspection, Phillips recommends assigning a truck to a specific set of installers.
"Give them a level of accountability over maintenance and repairs," he says. "We find the trucks tend to last a lot longer and have a lot more value upon resale versus taking a truck and passing it around among a dozen technicians and installers."
Finally think "outside the box" when it comes to deployment. It's true that maintenance should be performed on a truck, but understand that trucks can also perform maintenance jobs to bring in greater profits. A truck that's not out on the road or at a job site is losing money, so in between sign projects, shops can repair signs, replace bulbs, and maintain and clean signs.
Opportunities even exist outside the sign industry where the reach of a bucket truck is still needed on jobs like tree trimming, parking lot lighting, heating/AC repairs with local HVAC companies, and more.
"Service equipment is the cash flow machine for the industry," says Wilkerson. "The more that the equipment is on the job site and on the road, the higher cash flow they generate."
By Ashley Bray
Photos (top to bottom): Elliott Equipment Company, Manitex, Wilkie Manufacturing.