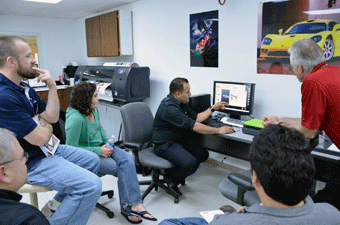 Imagers recently became color experts at SGIA's Color Management Boot Camp. SGIA brought eager business owners and production personnel together last week for a two-day Workshop, "Color Management Boot Camp: Basic Training for Your Business." Industry experts Tony Quinn of Nazdar Consulting Services and SGIA's own, Jeff Burton lead the students in demonstrations and group exercises designed to make large-format inkjet color management work for them.
During the November 8-9 Workshop, attendees learned all about color theory and principles, the goals of color management and how to apply new information, and procedures and techniques using popular RIP software (including Wasatch Computer Technology LLC, ONYX Graphics Inc., and Caldera).
Alrick Warner, of Procter and Gamble Company, said, "I'm with a very large company, and sometimes it's tough to really get down to the nitty-gritty of understanding some of the color management techniques, so for me, it was good to hear from other companies. We are digitally printing in-house now, so we need to step it up and learn how to do it.
"The instructors presented very high quality information. My colleagues back in Cincinnati will love to get a hold of this type of information."
Look out for your next opportunity to take advantage of SGIA Workshops and other educational opportunities in 2012; visit SGIA.org, Keyword: Events.