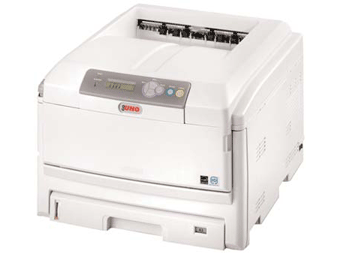 Graphics One, LLC, an international distributor dedicated to providing innovative, high-quality products to digital imaging professionals, and Condé Systems, one of the top suppliers of dye sublimation and transfer products with a reputation for innovation and vision join to bring you the first professional transfer printer from OKI: the GO UNO. Combining cutting-edge transfer technology and value pricing, the first professional LED transfer solution—the GO UNO LED Transfer Printer—will be available in the United States only through Condé's distribution channel.
The new GO UNO is a groundbreaking professional transfer offering combining performance, flexibility, and new capabilities. The best value in tabloid printing, the UNO excels specifically in printing transfers, but also prints documents in letter, tabloid, and fifty-two-inch banner formats in unequaled GO eColor. Even with a compact design and small footprint , the GO UNO's proven LED platform enables tabloid color printing with denser imaging for transfer than a traditional LED printer. Even more, Extended Edge Technology allows full transfer and tabloid printing with three extra inches of printing on the bottom.
"We are excited about this alliance with Graphics One. Combining OKI LED technology with our joint ability to deliver the UNO to the textile and specialty graphics markets make this an ideal partnership," said David Gross, president of Condé Systems.
"The GO UNO is the optimal solution for the transfer market, and with Condé's outstanding leadership, we are expecting it to quickly become the industry standard. Ultra-reliable with incredible speed, rich GO eColor, and new transfer technology, this product is perfect for our joint distribution channel," shared Dan Barefoot, president of Graphics One.
Bring transfers to life with the first ever professional LED system for transfer. GO UNO: It's the professional's one and only. The GO UNO is available immediately in the United States from Condé Systems.