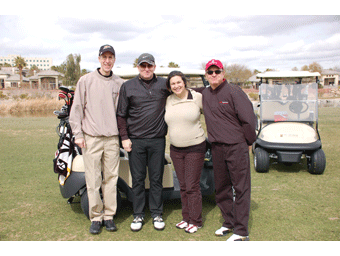 The Digital Signage Federation® has announced that registration is now open for its second annual golf tournament at the TPC Las Vegas golf course. Kicking off the week at DSE 2012 with a shotgun start on Monday, March 5 at 12p.m., tournament proceeds will go to support the scholarship and development of DSF College Student Chapters.
Last year's event winner was Team Saddle Ranch Digital (pictured), made up by Kim Sarubbi of Saddle Ranch Digital, Jeff Porter of Scala, Inc., John Sheehan of NEC Display Solutions, and Mark Mantha of MAN-MAC Consulting Inc.
"DSF's golf tournament is not only a great social networking event, but it is also brings professionals and peers across the industry together for a great cause", said DSF Board Member and Tournament Co-Chair Brian Dusho of BroadSign International Inc.
Dusho added, "Holding the tournament at the beautiful TPC Las Vegas golf course will provide a great start to the week at DSE."
To register or to find out more information about player fees and sponsorship opportunities, visit the DSF Web site or contact DSF Executive Director Brian Gorg at 540/551-5500.