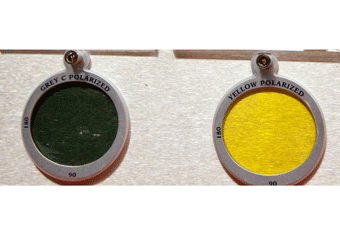 A national marketing services provider recently used NVision Inc.'s Engineering Service Division to reverse-engineer an essential part in a store display for one of the nation's largest optical retailers. NVision was able to quickly scan the part and provide the CAD files necessary to mass-produce it for the display in the retailer's stores nationwide, enabling millions in annual sales.
WebbMason is an on-demand marketing services provider headquartered in Hunt Valley, Maryland, whose clients include one of the country's largest optical retailers. Webbmason invented a custom display to showcase their client's ability to provide a multitude of different sunglass lens coatings. The display uses small plastic rings about two inches in diameter, into which the optical retailer can snap a sample lens, which can then be looked through by customers.
"We invented and provide the display these sample lenses are used with and we also distribute the sample lenses themselves, but we've only recently been asked to provide the lens rings the sample lenses snap into. So this was an entirely new product for us," said Dan Michels, Senior Account Executive & Retail Solutions Specialist for Webbmason. "I did some research and discovered that, although we have physical samples of the part, plastic injection molders still need a CAD drawing from which they make their molds for mass-production. Unfortunately, we didn't have a CAD drawing of an existing ring.
"I did further research into reverse-engineering and learned that one way to obtain a CAD file of a part is have it scanned with a 3D laser scanning system and then create the CAD drawing from the scan."
Michels, who works out of Webbmason's southern division in Fort Worth Texas, learned of NVision's scanning services and met with the company's engineers. "I could immediately tell that these guys were pros," he said. "They knew what they were doing, they were well-equipped and staffed to provide me with exactly what I needed. Above all, they were willing and interested in working with me."
NVision engineers were able to quickly scan the lens ring using the company's HandHeld laser scanner. The NVision Handheld scanner is a powerful portable scanning device that is capable of capturing 3D geometry from objects of almost any size or shape. The scanner is attached to a mechanical arm that moves about the object, freeing the user to capture data rapidly with a high degree of resolution and accuracy. An optional tripod provides complete portability in the field. Intuitive software allows full model editing, polygon reduction, and data output to all standard CAD packages.
The scanning process took less than a day. After it was completed, NVision provided Michels with the CAD files needed to mass-produce the ring for the display.
"Lens coatings are any optical retailer's most profitable product, so selling Rx sunglasses is pretty important," said Michels. "It can be said that NVision's help with this part enables millions of dollars of our client's most profitable sales annually.
"They also helped us add another product to our already broad offering, and I'm looking forward to working with them on my next custom retail display project."
For more information about NVision, call 972/393-8000 or visit www.nvision3d.com.