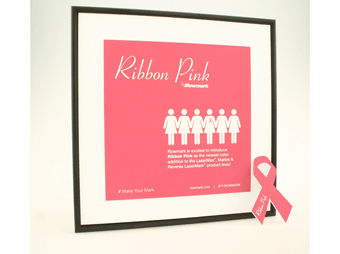 Rowmark announces the release of Ribbon Pink, the newest color addition to the LaserMax®, Mattes, and Reverse LaserMark® product lines. The color "Ribbon Pink" was developed due to an increase in requests for a pink engravable sheet stock and in light of the popularity of the Susan G. Komen for the Cure® Breast Cancer Pink.
Ribbon Pink is designed to suit a variety of signage and award applications, including special gifts, promotions, and designs for Mother's Day or the spring season.
Ribbon Pink will be featured in Rowmark's tradeshow display at the upcoming ARA International Awards Market in Las Vegas, as well as at the ISA International Awards Expo in Orlando and the Awards and Custom Gift Show in Indianapolis.
To request a sample of Rowmark's new Ribbon Pink material, please email [email protected].