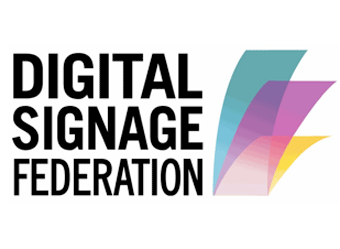 The Digital Signage Federation® (DSF), the independent, not-for-profit trade federation serving the digital signage industry, has announced that it will be representing its members and the digital signage industry at-large at the International Sign Association's (ISA) premier 2012 event, the International Sign Expo. The ISA event runs from March 21-24 in Orlando, Florida.
Developing opportunities to introduce the technology and business concepts and benefits of digital signage to audiences in related industries is a goal of the DSF leadership.
DSF Chairman Alan Brawn will lead a team of respected digital signage industry professionals that will provide a curriculum of instruction for the attendees at the ISA show. The curriculum will consist of introductory concepts, technology overviews, and discussions about the business side of digital signage. The DSF will also have a floor presence at the ISA, encouraging attendees to learn more about the elements of digital signage, ideas on partnering or working with companies already in the digital signage space, and how they can gain more knowledge through resources such as the Digital Signage Expo (DSE) and the Digital Signage Experts Group (DSEG).
Brawn said, "I am thankful for the opportunity the ISA has given to the DSF to help educate the traditional static sign industry about how their members can grow their own businesses by expanding their business models to incorporate digital signage. We believe that digital signage complements the traditional sign industry and offers sign companies an exciting new service opportunity to meet the growing needs of their clients.
"There are plenty of opportunities for traditional sign companies to engage with existing electronic digital signage providers or develop their own services."
DSF Executive Director Brian Gorg said, "We hope that interested ISA attendees will not only learn how digital signage can benefit them in their current businesses, but will also recognize and act on the expansive opportunities to educate themselves about digital signage through certification programs like the Digital Signage Experts Group, tradeshows like the Digital Signage Expo, and our organization, the DSF."
For more information about this event and curriculum, visit www.signexpo.org.