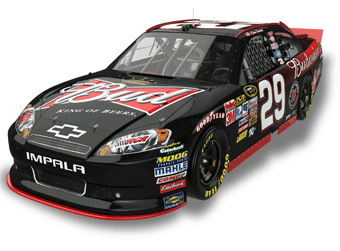 NASCAR season opens this weekend in Daytona, and Richard Childress Racing (RCR) is ready for show time, thanks to Roland inkjet printing technology. Inside the company's in-house graphics production studio, the RCR Graphics Center, a team of expert designers and installers are working night and day to wrap RCR's extensive line-up of cars, trucks, and trailers.
"We basically take the off-season to give each vehicle a makeover," said Nick Woodward, graphics manager for the RCR Graphics Center. "With new sponsors this year and new, updated branding elements for our returning sponsors, we have produced hundreds of new graphics and wraps over the last month or two.
"In preparation for this year's season, we have already wrapped 37 cars, trucks and trailers, some as long as 53 feet, using more than 8,100 square feet of printed vinyl each week."
To keep pace with the sport's demands, Woodward and his team rely on four Roland eco-solvent wide-format printers, including a 64-inch VersaCAMM VS-640 metallic inkjet printer/cutter, and three SOLJET models, a 54-inch XC-540 printer/cutter, 64-inch XJ-640 printer, and 54-inch XC-540MT metallic inkjet printer/cutter. According to Woodward, the shop is currently running each of its Roland printers 14 to 16 hours a day, seven days a week.
"It's a lot of hard work, but the results make it all worthwhile," he said. "Our flashiest car may be the No. 29 Budweiser Chevrolet Impala, driven by Kevin Harvick, which features a spectacular metallic wrap (pictuted, top). Our No. 27 PEAK Performance Chevrolet, driven by Paul Menard, has an entirely new design and color scheme as well, featuring bold blues and yellows (pictured, below). All of our cars and trucks have been redesigned and all are absolute show stoppers."

In addition to vehicle graphics and wraps, the RCR Graphics Center is producing a variety of signage and event graphics for pit boxes and other high profile areas around the track.
To help meet the demand for signage and labels, the shop recently acquired two Roland VersaUV LED printers, including a 64-inch LEJ-640 hybrid roll-to-roll flatbed printer which prints directly onto boards and other thick media, and a new VersaUV LEC-330 LED inkjet printer/cutter, which supports a vast range of roll media for labels and decals. The LEC is also used to produce wine labels for Childress Vineyards, the organization's official winery.
"RCR is a very exciting, multi-faceted organization, and we are proud to be a part of it," Woodward added. "Roland printers keep our teams looking their best, which is all important when you step into the winner's circle."
NASCAR season opens officially Sat., February 18 with the Budweiser Shootout, which is followed by the first Sprint Cup Series event February 26, the fifty-fourth running of the "Great American Race." Both events will be held at the Daytona International Speedway in Daytona Beach, Florida.
For more information on Roland and Richard Childress Racing, visit www.rolanddga.com.