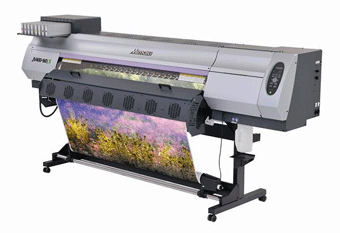 Mimaki Engineering Co., Ltd., a leading manufacturer of wide format inkjet printers, has introduced two new printers to support its commitment in bringing truly innovative and productive products to the market. The JV400 product line achieves faster print speed and higher print quality without compromise.
The JV400-130/160LX is a latex printer featuring newly developed environmentally friendly latex ink. Meanwhile the JV400-130/160SUV is a revolutionary inkjet printer, blending the flexibility of solvent printing with the durability of UV-cured inks. These new printers are expected to be available come Spring 2012. Both printers deliver maximized performance with Mimaki's user-friendly RIP, RasterLink6, enabling three ink layers in one pass with white and color inks.
JV400-130/160LX Details
The JV400-130LX (fifty-four-inch) and JV400-160LX (sixty-four-inch) printer supports six colors plus white and is, in fact, the world's first latex printer using white ink, which is increasingly required in the signage market. Mimaki's white latex ink meets the needs of a wide range of printing requirements and substrates. It can be utilized with transparent PET, window decoration, shatterproof window film, and more. The JV400-130/160LX is equipped with Mimaki's MCT (Mimaki Circulation Technology) ink circulation system that prevents pigment sedimentation for stable ink dispersion and a reduced need for manual ink cartridge circulation processes.
Mimaki latex inks are fast-drying, and the drying process is additionally supported by three heaters integrated into the printing system (pre, print, and post heaters) as well as drying fans that ensure products are ready for processing and finishing as they exit the printer. An amazing low curing temperature of 60°C or below also enables printing on a wide range of heat-sensitive materials.
Exceptional quality is ensured by a minimum dot size of 4 picoliters and the ability to use variable sized ink dots for smooth gradation without a grainy appearance. And at a print speed of up to 18 square meters per hour, the JV400-130/160LX is sure to improve the productivity of any shop. The JV400-130/160LX also comes with 600ml ink packs, which are set in eco-cases. These eco-cases don't have to be recycled and thus ensure an ecological and economical production, as they eliminate the need to change small ink cartridges during ink replacement.
Meanwhile Mimaki states that these two latex printers use less energy than any other latext printers on the market.
JV400-130/160SUV Details
The JV400-130SUV (fifty-four-inch) and JV400-160SUV (sixty-four-inch) prints in four colors (CMYK) at speeds of up to 18 square meters per hour. This truly unique solvent UV printer combines the flexibility of solvent with the durability of UV-cured inks using newly developed Mimaki inks.
In the printing process, the solvent component is absorbed by the ink-receiving layer of the media and the pigment is settled into the media. Printed ink is then cured with a UV process, resulting in a smooth, glossy appearance that simulates coating yet maintains the bright colors expected of a solvent printer. These brilliant solvent UV prints will surely attract attention, satisfying even the most demanding customers.
UV curing also results in strong resistance to scratching and weather. Prints exit the printer completely dry, ready for immediate post-processing.
RasterLink6
Both new models in the JV400 family are front-ended by Mimaki's brand-new user-friendly RasterLink6 RIP that allows the deposition of three layers of ink in one pass, including a base layer of white ink for printers that support white ink. This allows the reproduction of the natural beauty of colors printed on transparent media for applications such as window graphics and backlit signage.
For more information about RasterLink6, please see the RasterLink6 press release.