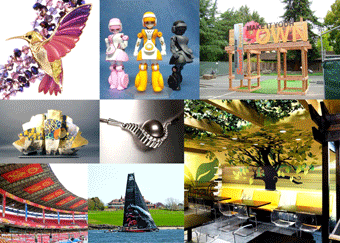 Roland customers worldwide now have until January 29, 2012, to showcase their best work and compete for thousands in prizes, including a trip to Japan and the Roland device of their choice. The deadline to enter the ROLAND CREATIVE AWARDS has been extended in response to the popularity of the contest, which has received more than 570 entries since its launch on September 21, 2011.
"This contest has truly been one of the highlights of the year for us," said Rick Scrimger, Roland DGA vice president and general manager. "We are getting such a wide variety of entries, from wall murals to vehicle wraps and jewelry designs, and each entry is so imaginative. We invite everyone to visit the site and vote for their favorites."
Celebrating the company's worldwide thirtieth anniversary, the ROLAND CREATIVE AWARDS are open to all users*1 of Roland equipment across the globe at www.rolandcreativeawards.com. Entries will be judged based on Creativity, Innovation and Execution in each of 14 regions representing 123 countries. More than seventy-five prizes are being awarded worldwide, including:
* Monthly People's Choice Awards—This award recognizes one top entry per region each month, as voted by site visitors.
* Honorable Mention Awards—Honorable mention winners will be named in each region with prizes varying by region.
* Regional Winner—Regional winners will receive an all-expenses-paid trip to Japan*2 to celebrate thirty years with Roland DG and compete for the worldwide grand prize in April 2012.
* Worldwide Grand Prize—The contest's top entrant worldwide will win a Roland machine of his or her choice: a VersaCAMM VS-420 42-inch printer/cutter, an EGX-360 gift engraver, a JWX-30 jewelry model maker, or an MDX-40A milling machine.
Judging for the worldwide competition will take place during Roland's Thirtieth Anniversary Celebration, to be held in April 2012 at the company's global headquarters in Hamamatsu, Japan.
To participate in the ROLAND CREATIVE AWARDS, Roland customers must submit entries online by January 29, 2012.
For more information, visit www.rolandcreativeawards.com or contact your local Roland DG office.
*1 The contest is not open for some regions or countries. For a complete list of participating Roland DG locations, please visit www.rolandcreativeawards.com/countries (or similar pointer listing countries involved).
*2 Trip to Japan includes: Roundtrip airfares, 5 nights accommodation (3 star or similar), transfers, meals and sightseeing.