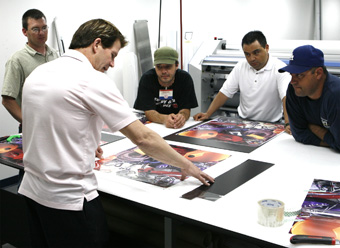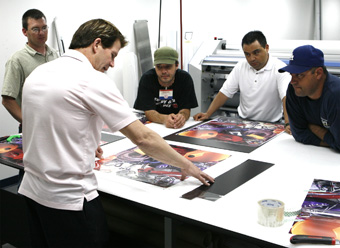 Roland DGA has expanded the Roland Academy catalog of training courses, adding several specialized webinars to its series of popular hands-on workshops.
Designed to provide end-users with the knowledge and expertise they need to grow their business, Roland Academy workshops offer instruction by industry experts and are available for each of the company's product lines. As an added bonus, registered Roland owners are eligible for free and unlimited access to the Roland Academy's complete online webinar series through the end of 2011. Webinars are also available to non-Roland owners for a moderate fee.
"Roland Academy presents an excellent opportunity for our customers to learn the very latest cutting-edge techniques and in-depth knowledge they need to effectively achieve professional results," said Dana Curtis, Roland product manager for Roland Academy. "Whether they attend a workshop or webinar, customers are able to take full advantage of Roland's expertise and resources to further extend their capabilities and gain a competitive edge."
Taught by industry experts, Roland Academy online webinars are free to registered users, making professional development convenient and affordable. Current course topics include:
* EGX-350 Gift Engraving Using EngraveStudio
* Cylindrical Cutting Using the MDX-40A with Rotary Axis Unit
* Introduction to Variable Data Printing
* VersaWorks RIP Software Overview
* EngraveStudio Software Overview
* Introduction to Color Management
This two-day workshop delivers the skills and expertise needed to expand your capabilities within the world of vehicle graphics and wraps. Taught by industry experts at Digital EFX Wraps, Roland specialists provide you with the tools and techniques, and hands-on instruction that enable you to produce and install custom graphics.
Led by large format digital printing expert David Goetter (pictured, above), this intensive three-day, hands-on workshop focuses on teaching the ten core applications of every digital print shop. Ideal for production managers, printer operators, shop managers and sales representatives, this course is designed to give attendees a competitive advantage and solid foundation of knowledge and skills to build their digital printing business. Attendees have reported that this class more than paid for itself within weeks, or even days.
For a full listing of workshops and webinars or for date, time, and location information, please visit the Roland Academy section of www.rolanddga.com/training/workshops.